Seven real estate companies that are listed on the ASX saw their share price grow by an average of 42.5 per cent last year – even as the All Ordinaries fell 1.3 per cent.
REA Group shares started the year at $45.36 and ended the year at $55.09 – an increase of 21.5 per cent.
Most of that gain came from a late rally, which started in November after REA Group announced that it planned to acquire iProperty Group in a $578 million deal. The shares, which were then priced at $48.03, surged 14.7 per cent in the final two months of the year.
The takeover target, Asian portal iProperty, also did well in 2015, with the share price reaching $3.95 – up 47.4 per cent from the start of the year and 12.5 per cent from the takeover announcement.
Onthehouse Group made a gain of 21.0 per cent, after its share price climbed from 59.5 cents on 1 January to 72 cents on 31 December.
That entire gain was made in the last week of December, as Onthehouse's share price was actually at 59.5 cents when it received its recent unsolicited takeover offer.
December was also a notable month for McGrath Estate Agents, which was when the group made its long-awaited debut on the ASX.
However, after listing at $2.10, McGrath ended the year at $1.78, which marked a 15.2 per cent fall.
There was better news for another real estate company, Hello Real Estate, which is in the process of achieving a back-door route to the ASX through a reverse takeover of publically listed mining firm Minrex Resources.
Minrex shares jumped 112.5 per cent during 2015, from 8 cents to 17 cents.
Property portal rent.com.au also enjoyed massive growth, with its share price jumping 104.0 per cent, from 16.67 cents to 34 cents.
Fairfax Media, which is the parent company of Domain Group, increased from 87.5 cents to 92 cents, a gain of 5.1 per cent.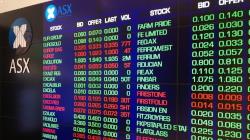 Written by

Nick Bendel