Principal Annee Smith said that Waroona, a small town 120 kilometres south of Perth, had been surrounded by fire. When she spoke to REB on Friday, she was stranded on her property outside town. She believed her office hadn't been affected, although a handful of buildings in town appeared to have been lost.
Ms Smith said the office hadn't been able to open, the power was out and several staff had been unable to get into Waroona.
"The girls were evacuated – once you leave town, you can't come back into town," she said.
"Myself and the property manager were both on land, so we both spent the night fighting fires and were not able to go in."
Ms Smith said the bushfire is sure to have an impact on her business, which she has owned for four years.
"We're going to have a really busy period. We will have lost some of our rentals, so there will be people who need to be re-housed and there will be a lot of insurance stuff to follow up," she said.
"There will be people who might have bought in Waroona who will not buy now. We've lost properties that we've had for sale. I think we may even lose a couple of sales because the houses may have burned down."
Ms Smith said on Friday that the worst might have passed for Waroona, because there had been a cool change and the wind had dropped.
[Related: NSW agencies threatened with floods]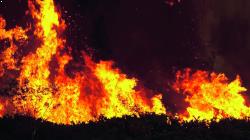 Written by

Nick Bendel