Celebrity website TMZ has reported that everybody's favourite octogenarian philanderer, Hugh Hefner, has put his legendary Playboy Mansion on the market.
Apparently, Hef wants more than US$200 million ($288 million) for the legendary party palace – but it appears he was hungover when he came up with that valuation.
"Real estate sources with knowledge of the area say the owners [Playboy Enterprises] are dreaming when it comes to price," according to TMZ.
"They say the reality is the house is a tear-down and the real value is the acreage and that a comparable lot sold recently in the area for US$60 million, but the sources say because of its history the mansion could go for anywhere between US$80 million and US$90 million."
But just because Hef is planning to sell his famous home, doesn't mean he is willing to pack up his collection of dressing gowns and sailor's hats and move elsewhere.
Apparently, the buyer will be required to let Hef live in the mansion until he dies – because even Hef has to die eventually.
Click here to view a Playboy Mansion photo gallery.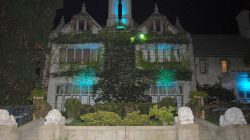 Written by

Staff Reporter