Andrew McCulloch will commence as head of network development for the Ray White Group this month.
Mr McCulloch said his ambition is to continue to build Ray White's market share.
"We could open 100 new offices this year, but we'd prefer not to," he said.
"Our focus will be on achieving more market share by focusing on the quality of offices and elite performers we attract to Ray White, not simply the number of offices we open."
After working as a franchise development manager for Harcourts and LJ Hooker, Mr McCulloch took on the role of national franchise development manager at LJ Hooker. At Ray White, he has been tasked with hiring the best agents in the country.
Ray White director Dan White said Mr McCulloch will be instrumental in helping Ray White continue to grow and deepen relationships within the industry.
"As we continue our momentum of growth, Andrew brings a broad range of experience in different markets, and has proved extremely successful in what he's achieved in past roles. He will be a vital addition to our leadership team," Mr White said.
One of the reasons Mr McCulloch joined Ray White was to become part of a family business – and he believes this will also be a key factor in why top agents will want to join the group.
"The fact that Ray White is still family-owned and family-led will give franchise owners a better experience," Mr McCulloch said.
"It will also give our team scope to move swiftly in a marketplace where things move so quickly. I believe we will continue to build upon the best franchise offer in the marketplace."
Mr McCulloch will represent a corporate team of more than 400 people who support Ray White's 15,000 members across the Asia-Pacific.
[Related: Star Ray White agent targets 20% commission boost]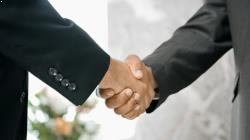 Written by

Staff Reporter