Hodges Brighton director Sam Paynter sold two Brighton beach boxes on the weekend – one for $285,000 and the other for $280,000. The previous record price for a beach box was $260,000.
Mr Paynter told REB the beachside auction attracted crews from all three commercial networks as well as Sky News, with four hopeful buyers bidding for each box.
Mr Paynter said he had auctioned half a dozen beach boxes over the years, and the campaigns for these seaside huts have a different vibe to campaigns for residential property.
"Probably the biggest difference is they're so unique that they end up having a substantial amount of editorial and press coverage, which draws it to everyone's attention. I was quite staggered about the extra coverage in the media," he said.
Mr Paynter said one of the challenges of auctioning beach boxes is that they can only be purchased by City of Bayside residents.
"But they're extremely desirable to have in Bayside, so as an agent you know that the people who want to bid know all about them, know their history and want to have one in their family," he said.
Mr Paynter said his diverse marketing campaign proved to be highly effective, with one buyer responding to an online listing while the other responded to a local newspaper ad.
"One of the buyers was an 85-year-old chap who has six children and 16 grandchildren, and for him it was all about love and life. The other one was a young local family keen to enjoy everything the beach offers," he said.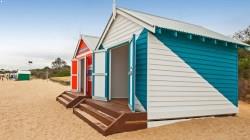 Written by

Nick Bendel