Queensland group Coronis, which was named Major Independent of the Year at the 2015 Real Estate Business Awards, last week rewarded some of its best performers with about $100,000 worth of prizes.
Sales director Craig Gillies told REB that despite the expense the prizes incur, the group has received returns on its investment in the four years since they began the annual internal competition to encourage performance.
"As sales director, I was casting about to work out an incentive to lift the team's performance," Mr Gillies said.
"We ran the numbers on what we would have to achieve [to get return on the investment]. If you throw $100,000 into the mix, it's not like you've got to make 10 extra sales to pay for that – it's a lot more if you look at profit numbers."
Coronis handicaps the competition by dividing the agents into three groups based on their previous best performances. That way, even inexperienced agents can aspire to win a prize.
Group 1 winner Terry Zheng won a BMW, Group 2 winner Tharidu Edirisinghe won a Fiat and Group 3 winner Chris Rhode won a Mazda, while Group 1 runner-up Brad Sissons won a $10,000 travel voucher and Group 2 runner-up Lincoln Tatnall won a $5,000 travel voucher.
Mr Gillies said the incentive program has inspired Coronis agents to continually aim higher.
"I think the biggest advantage [of creating the scheme] was seeing the number of people who lifted their performance," he said.
"It lifts their benchmark and lifts their expectation of their future performance based on that."
Meanwhile, Coronis has opened its 21st office, putting it one step closer to achieving its goal of 50 sites. The new office is located in the Brisbane suburb of Hamilton.
Managing director Andrew Coronis said expanding into Hamilton would give the group a chance to tap into the high-density living and luxury markets.
"Opening Coronis Hamilton was just the first step of expanding Coronis' footprint in Queensland this year. We're now focusing on setting up offices in Robina on the Gold Coast and Townsville," he said.
[Related: Coronis signs merger deal]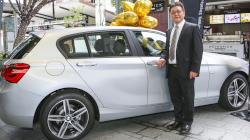 Written by

Nick Bendel