R&W announced yesterday that managing director Andrew Cocks had acquired the company from the Wong family, who had owned the group since 1988.
Mr Cocks told REB that while he will certainly be eyeing opportunities to expand the network beyond NSW and Queensland, his main focus will be on collaborating with his existing franchisees.
"My focus is on making sure we can build on our strengths, which is providing business opportunities for people in NSW and Queensland," he said.
"There are certainly opportunities in other locations and we will be exploring those in a fairly measured way over the next couple of years."
While he admitted that there are always opportunities to grow the business, Mr Cocks stressed that he wants to protect the R&W brand, which has been in existence since 1858.
A major part of this is maintaining strong relationships with the group's existing franchisees, he said.
"We are a very collegiate and collaborative network and we all get along really well with each other. I think that is a very important strength of what it is to be a part of R&W."
Mr Cocks said that a franchisor needs to look at how it can make its franchisees more profitable, as well as being flexible enough to meet their individual needs.
"We get very personally involved with each of the businesses to understand what they want to do and help them achieve what they want to achieve," he said.
"That's really the whole focus of our service support team and it's my focus in dealing with all the principals.
"We have some really great operators in the group and I'm pleased to say that the relationships between us as the franchise group and all of our operators are very good."
[Related: Industry boss acquires franchise group]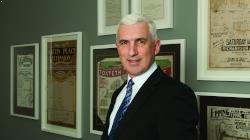 Written by

James Mitchell