Now in its second year, REinnnovate 2016 was a one-day tech-enriched conference held at The Star in Pyrmont, offering agents valuable insights into the opportunities presented by today's digital world.
The event was partnered by Console, Rockend, AgentBox, CoreLogic RP Data, Estate Agents Co-operative Ltd, REX, Conveyance Genius, Snaploader, SnapRE, Zenu, @realty and Homely.
Speaking to hundreds of real estate agents from around the country, technology and business thought leader Steve Sammartino emphasised that although "the seeds of disruption" pervade everyone's life, agents can adopt proven strategies to become the "disruptor, not the disrupted".
The event's moderator and host of ABC TV's The New Inventors James O'Loghlin stated that innovation occurs as the result of a continuous process, rather than a stroke of genius.
"Innovation is a state of mind," he said.
The LAB Strategy's Neale Cotton emphasised that in the face of disintermediation, the personal service that agents provide is invaluable.
Director and online marketing adviser of The Online Co. James Parnwell gave agents a unique insight into the world of search engine optimisation and how to harness the power of digital marketing to generate leads.
In an engaging panel discussion, leading agents Doug Driscoll of Starr Partners, Alex Ouwens of Ouwens Casserly Real Estate and William Phillips of BresicWhitney explained how they have used innovation to enhance their businesses.
Agents also heard from event sponsors John Prendergast of Rockend, Ian Campbell of Console and Rob Trovato of Homely on the day.
Executive general manager of solutions and wholesale at CoreLogic RP Data Greg Dickason rounded out the thought-provoking day by encouraging agents to "play in the space of the ecosystem" that new and emerging technologies are creating.
"We can't compete with it. What we can do is join the revolution."
[Related: House-hunting habits have 'totally changed']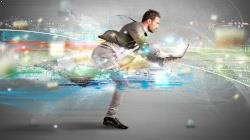 Written by

Francesca Krakue