According to a new report by Savills World Research, which measures the growth of residential property values among 18 major world cities in the 10 years to 31 December 2015, Sydney ranked fourth with an increase of 137 per cent.
Mumbai was the top-ranked city, with an increase of 184 per cent in residential property values over the 10-year period, while Shanghai finished second with 173 per cent growth and Hong Kong was third with 167 per cent growth.
London came in fifth with an increase of 121 per cent in property prices, while Singapore (105 per cent), Berlin (95 per cent), Johannesburg (80 per cent), New York (61 per cent) and Moscow (51 per cent) rounded out the top 10.
Meanwhile, Dublin was the only major world city listed in the report to see a decline in property values since 2005, down 26 per cent. However, Savills noted that this figure represents a recovery in Dublin's prices, having been at -57 per cent in 2012.
Furthermore, the report showed that the average 10-year value growth for the 18 cities surveyed was 73 per cent.
Yolande Barnes, head of Savills World Research, said the global financial crisis had presented an opportunity for real estate in new and emerging markets, particularly Asia, to rival those in the West, with price growth in the new and emerging economies averaging 123 per cent between December 2005 and mid-2011, compared to just 32 per cent in the established cities of Paris, Tokyo, London, Sydney and New York.
[Related: Hobart dominates capitals for price growth]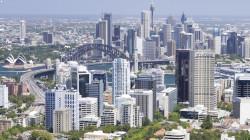 Written by

Staff Reporter