Richardson & Wrench owner Andrew Cocks told Real Estate Business that the business environment in which agents of the future will operate will be significantly different from what has until now been the norm.
"In previous years, the traditional approach was to have your local area retail shop with a team of people, whether it was a husband and wife, father and daughter, mother and daughter, whatever the combination was, plus a receptionist and property management team," Mr Cocks said.
"That was always the model and you were very much focused around the location and physical presence of the office because that is where people would go to see what stock was actually available.
"I remember when I was younger I would always go and have a look at the real estate offices to see what they had to sell. I can't remember the last time I visited a real estate office for that purpose," he said.
According to Mr Cocks, the approach of the marketplace has changed – a majority of customers no longer visit an office to look for real estate. Instead, they go online, which has shifted the purpose of physical offices.
"At the same time that we have seen such a rapid change in technology and the way in which the market obtains its property information, we have seen the fixed costs in running a traditional real estate business increase as a percentage of revenue, which means margins are being squeezed," he said.
"Really, the main purpose of an office is now to provide a great environment for an effective multi-disciplined team. The role of the real estate office has changed quite dramatically. It is a fundamental change that has happened right across the industry.
"Our industry needs to embrace those changes to provide better pathways for developing business ownership, and to allow people to transition their business in a way that best suits them to become effective and successful operators."
There are already a number of highly successful real estate agents who operate without a traditional retail office, yet manage to maintain a strong presence in their local area.
As the environment continues to evolve, Mr Cocks believes it provides plenty of opportunity for young agents eager to become business owners. "It suits the younger people coming through who have been brought up with technology but at the same time, the risk profile of many younger real estate professionals is also different," he said.
"It means the business under which they can operate will need to be very different to what it was in the past. There are lots of different options for successful businesses in the future."
As the owner of one of the leading real estate networks in Australia, Mr Cocks said it is his job to recognise these changes and provide structures and pathways for new business ownership options to be realised.
"It is a key part of what it means to be part of this industry in the future. You have to have the flexibility that allows a level of individuality but at the same time providing pathways that will allow the younger professionals to build and expand their business over time," he said.
While he admits that the role of the office has changed dramatically, the R&W boss said there are still plenty of people who do and will continue to prefer the strong, physical presence of a local office.
"But in the future, you will also find many examples of agents who don't have a traditional office, yet they are number one in their market. This has already started to happen," he said.
[Related: Be careful what you wish for]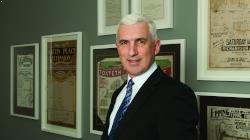 Written by

James Mitchell