Speaking to Real Estate Business ahead of the Australasian Real Estate Conference (AREC), which kicks off this Sunday on the Gold Coast, Mr Panos explained the value of new ideas.
"I think AREC is a critical event because agents need to be exposed to information, ideas and strategies that are time-relevant," he said. "That changes constantly. For instance, we know now that there are consumers out there who have changed the way that they interact with agents."
Mr Panos' new book, There Are No More Blind Dates in Real Estate, will be launched at AREC.
The leading real estate trainer said agents now more than ever need to know they are not just a salesperson.
"They are also the CEO of their own marketing business," he said. "AREC is extremely relevant as the speed of change is now happening every six months, not every six years."
Agents will hear from a number of international speakers at this year's event, including top New York agent Fredrik Eklund, star of television's Million Dollar Listing New York.
Mr Panos noted that one of the key benefits of having overseas speakers is that they see the world differently from the world that we see on a day-to-day basis.
"A lot of the time these speakers from overseas are big drawcards because they are international in terms of their credibility," he said.
"It is no different to when you see Manchester United or Liverpool come to Australia – you want to see not just the best in the country but the best in the world."
The two-day event returns for its fifth year to the Gold Coast Convention and Exhibition Centre on Sunday May 22 and Monday May 23.
Under the direction of AREC founder John McGrath, this year's event has been designed with the underlying theme of 'Rainmakers', with 35 world-class speakers set to impart their knowledge about how agents can be at the forefront of business and master change themselves.
Click here for more information about AREC 2016 including a full list of speakers.
[Related: New York's top agent to speak at AREC]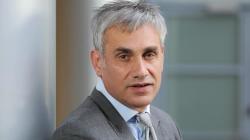 Written by

James Mitchell