The White family has been recognised among the most celebrated family businesses in the world and will be part of the annual EY Family Business book for 2016, which will be launched at the Monaco event.
The international event will wrap up with the renowned EY World Entrepreneur Of The Year black-tie gala, at which the World Entrepreneur Of The Year will be announced.
Last year, the Ray White Group was named as Australia's inaugural winner of the EY Family Business Award at the 2015 awards and the family has been invited to the Monaco event to honour Australian family business.
The forum 'Road to Monaco' will see a 'pre-kickoff summit' on 8 June, with Brian White joining a number of international family business leaders including Prasad Kuma of GMR Group Holdings and Guido Corbetta of Bocconi University, Italy in a panel discussion on maximising the family advantage through effective governance.
"Ray White is a family business made up of family businesses," Mr White said. "We are so proud to be representing family business for Australia at the prestigious EY World Entrepreneur of the Year forum.
"To be amongst the world's most successful family owned and led businesses on the world stage is an honour for our group and we are here to honour all the family-run businesses within our group and across Australia."
The Family Business Award is not new to EY internationally and was handed out in more than 20 countries in 2014. The Ray White Group is among family business award recipients that have successfully managed to grow and transition through multiple generations.
The EY World Entrepreneur Of The Year forum is the culmination of the EY Entrepreneur Of The Year program, which was held in more than 145 cities and more than 60 countries.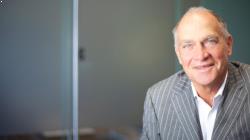 Written by

James Mitchell