April figures show residential building approvals recorded an increase of 3 per cent during the month, bolstered by an 8.1 per cent rise for multi-unit dwellings.
HIA economist Geordan Murray said the strong growth in multi-unit approvals was driven by the eastern seaboard states, with Queensland recording a 20 per cent jump, New South Wales experiencing a 19 per cent increase and Victoria posting a 7 per cent lift.
South Australia reported the largest overall increase in new home building approvals in April – up 13.7 per cent – closely followed by Tasmania at 13.6 per cent.
NSW and Queensland also reported significant growth in approvals at 10.4 per cent and 6.7 per cent respectively.
Meanwhile, approvals fell by 2.7 per cent in Victoria and by 0.6 per cent in Western Australia.
Mr Murray said the overall strong result goes against the easing trend in the past six months.
"We maintain our view that the level of new home building activity into 2016 is likely to be lower than we saw during 2015. However, this result suggests the 2016 level may be closer to the peak than initially expected," he said.
[Related: New home sales past cycle peak, says HIA]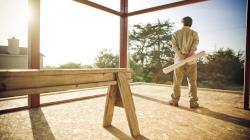 Written by

Francesca Krakue