Following an agreement with local independent real estate firm Logan Now, Raine & Horne launched a new office in the Logan City region south of Brisbane.
"Around 80 per cent of our buyers are interstate investors, which is central to our decision to link with a widely recognised real estate brand such as Raine & Horne," Logan Now's Bindi Follington said.
Ms Follington explained that the region's real estate affordability and competitive rental yields are attracting strong interstate interest.
"The median price in Logan central is $295,000 with many properties achieving rental yields of between 5 per cent and 6 per cent," she said.
"These numbers stack up favourably against median prices and rental yields in Sydney and Melbourne."
Ms Follington added that the region's proximity to Brisbane and the Gold Coast is crucial to its popularity with investors.
"Investors have the choice of flying into Brisbane and the Gold Coast when visiting our region, which is a significant appeal," she said.
Executive chairman of Raine & Horne, Angus Raine, said the partnership between the two companies will enable Ms Follington and the team at Raine & Horne Logan City to market more properties to a larger pool of interstate investors.
"[This is] great news for local property owners considering a real estate sale," he added.
[Related: Raine & Horne announces major office merger]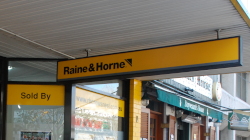 Written by

Francesca Krakue