REIWA President Hayden Groves says its data shows all five sub-regions experienced increases in activity in the past year.
"While conditions in the rental market remain challenging, the spike in leasing activity levels between December quarter 2015 and December quarter 2016 is a real positive for the market," Mr Groves said. 
"Tenants are very active and are taking advantage of favourable conditions."
The quarterly figures are also up – nearly 2 per cent in the three months to December 2016.
"All but two of the sub-regions saw a lift in activity over the quarter, with the south-east sub-region the standout performer," Mr Groves said.
At a suburb level, the big winners were Burswood (78.9 per cent), Palmyra (70.3 per cent) Melville (59.1 per cent), Langford (54.5 per cent) and Beechboro (53.8 per cent).
In line with the favourable rental conditions for renters, the overall median rent price adjusted back to $360 per week in the December quarter 2016, for both houses and units.
However, Mr Groves said several suburbs in each sub-region, such as Ocean Reef and Burswood, bucked this trend.
He said there is still plenty of opportunity for investors in the Perth rental market.
"In addition to leasing activity rising and interest rates holding at all-time lows, we are also seeing listings for rent not increasing at the rate they once were."
On average, it was one day quicker to lease a property in the December quarter 2016 than it was in the quarter prior.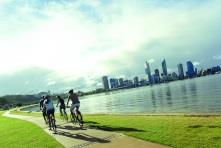 Written by

Staff Reporter