Peter Jones, chief economist of Master Builders Australia, said the a 0.7 per cent fall, seasonally adjusted, in the total number of owner-occupied housing finance commitments for September shows any fears are misguided.
Mr Jones said builders welcome the slight cooling since excessive speculative activity can lead to undue price pressures and difficulties sourcing materials and labour inputs.
"For new building, what is needed is a solid and sustained flow of finance over a number of years to redress the previous period of under-building, which resulted in the current housing undersupply and affordability pressures," Mr Jones said.
"This is why the good news story in the latest data is the 2.1 per cent increase in owner-occupier new housing construction and purchase of new building in September that confirms a sustainable annual increase of 10 per cent.
"Investor commitments for new building continues to trend higher, up by more than 20 per cent through the year, increasing their share of new borrowing. Builders remain concerned at the continuing absence of first home buyers from the market."
Mr Jones added finance for construction and purchase of new building grew steadily in Queensland and Tasmania in the three months to September compared to the same period in 2013.
A spokesperson for the Housing Industry Association said the annual rate of home price growth nationally is back in single figures for the first time in a year. 
"At the same time, new home building is stretching to its busiest year in two decades. This is no coincidence," HIA senior economist Shane Garrett said.
"The situation around residential land supply is also stifling new home building.
"It is important that federal and state governments ease the bureaucracy around the release and development of new land for new housing… this will help ensure that strong dwelling price pressures emerge again in future."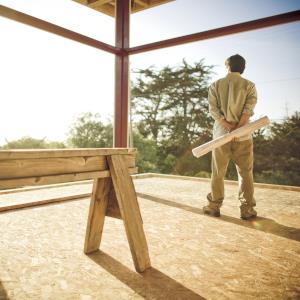 Written by

Staff Reporter