Tour Odéon, a skyscraper being built in affluent Monaco, includes a penthouse with various estimates pricing it between $387 to $440 million.
Monaco is already known for its fast cars, luxurious boats and glamourous one-percenters looking to burn some cash at one of the city-state's casinos.
However this new project may even see some the super-rich doing a double-take.
At 170 meters, Monaco's Odeon Tower (or Tour Odéon) will be the highest in the city-state and is the first high-rise building to be constructed in Monaco since the 1980s.
Architect Alexandre Giraldi dreamed up the project that features a double tower containing 70 apartment units (ranging from one to six bedrooms), floor-to-ceiling windows with 360 degree views of Monaco.
 "To live at Tour Odéon is to indulge yourself in the ultimate lifestyle," the project's website said.
At five-storeys and more than 3,300 square metres, the Sky Penthouse will reportedly boast multiple swimming pools, a health centre and private staff (including a chauffeur and caterer).
Don't feel like walking to take a dip? No problem. There's a slide that leads from a dance floor into an infinity pool.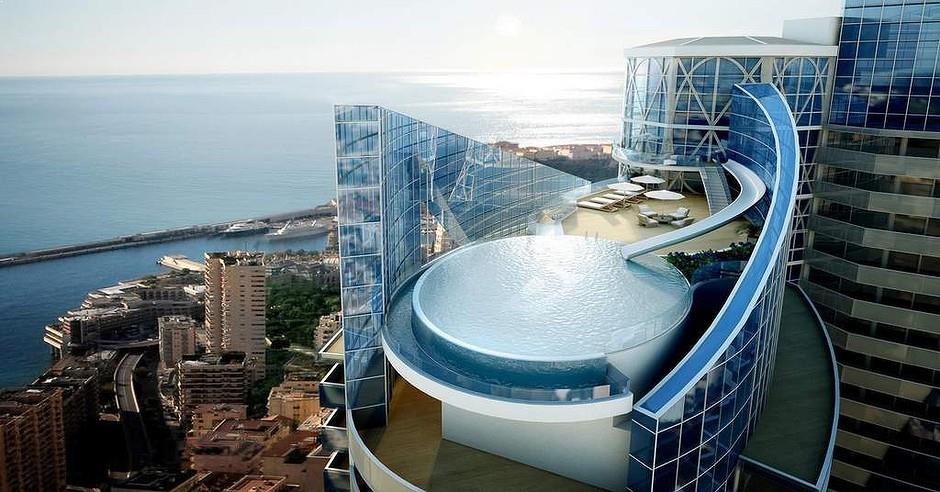 Written by

Elyse Perrau