According to a recent REB poll, 76.7 per cent of respondents plan to start their own real estate business.
Another 6.6 per cent said they were happy being an employee and 6.3 per cent said they would find it too hard or risky to go solo, while 10.4 per cent said they already own their own business.
Industry coach Josh Phegan said agents who want to become principals need to recognise that sales and management are two different disciplines.
"A lot of people feel they can go and run their own business because they've been successful in their sales careers but there's a big difference between being a principal and being an agent," Mr Phegan said.
He said agents should try to soak up as much management knowledge as they can from their current principal and consider internal and external training courses. They should also conduct extensive research before opening an agency and consider forming a partnership to create a stronger financial base.
One agent who stepped up from agent to principal is David Gowdie, who opened Harcourts Graceville in January 2015 with a business partner who had already opened other offices.
"It was always my intention to start my own business," Mr Gowdie told REB. "I have a history in corporate sales and marketing, so I had the skills required to manage and lead a team.
"I am still actively working as an agent, but I've very much taken a step back and I foresee that by the end of the year I won't be selling, I'll be focusing on leading and managing the team."
Mr Gowdie said that by using a franchise and working with an experienced partner he has minimised his risk and given himself access to a broader pool of expertise.
One agent who took the option of becoming a co-director is Grant Maskill-Dowton at Raine & Horne Bathurst.
"My aspirations were to become a director and the benefit in our business is that we have multiple directors, so we share the load," Mr Maskill-Dowton said.
"My passion is listing and selling, and after stepping into this management role I've realised I would probably lose a lot of my listing and selling abilities if I were to run a whole business myself."
[Related: From salesperson to principal]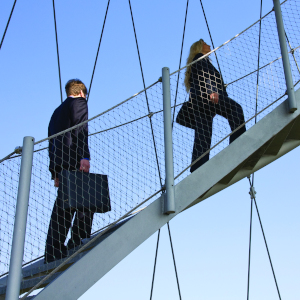 Written by

Lara Bullock