Richard Rawle of Residence sold a three-bedroom house in Enmore for $2.3 million after paying $400 to promote the property on Facebook, emphasising its garden.
Mr Rawle told REB that the Facebook listing had a click-through rate of just under 4 per cent, compared with a typical rate of about 1 per cent.
"Really good-quality photographs seem to capture attention on Facebook. It's more about photography than the words, and people want something that is different and eye-catching," he said.
Mr Rawle has a monthly Facebook budget that he allocates to some of his listings. He chose to promote this particular listing because he had a gut feeling it would play well in his tight-knit market.
"It tends to be a highly educated community and the demographic that this is appealing to is technologically savvy, so I would have expected there to have been a fair bit of interplay within the community over this sort of advertising," he said.
Mr Rawle gave the vendor a price estimate of $2.2 million at the start of the campaign, which he decided should focus on highlighting the garden rather than the house.
"The property is actually set on two separate blocks of land, so the house was built on the block on the southern side and the garden on the northern side, which made it an unusual property within the area," he said.
"The garden raised the property's value; it was certainly unique for the area and it was the element that attracted people's attention."
Mr Rawle said maintenance and presentation were vital in garnering such a high amount of interest from buyers.
"Within about a year prior to listing, the front garden had been replaced and replanted," he said.
"The property also had quite a lot of fresh painting done prior to it going on the market."
According to Mr Rawle, the property was sold three days before it was scheduled to go to auction due to interest from several buyers.
"We were in a situation where we had a number of eager buyers who were also looking at other properties, so it just made sense to close this sale especially since we had six offers put in prior to the auction."
[Related: How to use Facebook to generate listings]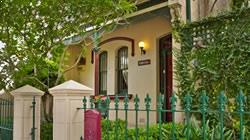 Written by

Jay Garcia