Hobart's median house price increased 3.4 per cent, from $357,000 to $369,000, between the September 2012 quarter and the September 2015 quarter, according to new data from the Real Estate Institute of Australia.
That was less than the 6.1 per cent inflation that occurred during that three-year period.
Darwin, which is struggling, grew 10 per cent over that time, with the city's median house price climbing from $551,100 to $606,400.
Adelaide's median house price rose 10.1 per cent, from $389,000 to $428,400.
Canberra experienced 10.4 per cent growth, with the median price increasing from $509,400 to $562,300.
The Brisbane market grew 12.1 per cent, from $427,400 to $479,000.
Perth might be stuck in a slump, but the city's median house price actually rose 13.7 per cent over the three years from $481,300 to $547,100.
Melbourne ranked at number two with 32.1 per cent growth, after the city's median house price jumped from $522,400 to $690,300.
Sydney recorded an extraordinary 50.3 per cent gain, with the median house price surging from $641,300 to $964,100.
Australia's two biggest cities were the only capitals to exceed the national average between September 2012 and September 2015. During that time, the median price in the combined capital cities rose 30.1 per cent, from $515,200 to $670,400.
[Related: Sydney and Melbourne snap back to reality]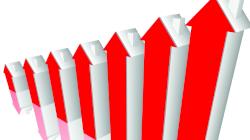 Written by

Staff Reporter