Tiffany Murray, co-founder of Adelaide business Dressed for Sale, placed first in UberPitch, a competition that gave entrepreneurs the chance to pitch their idea.
Ms Murray and her husband, Angus, launched Dressed for Sale in Adelaide in March 2014. It claims to have worked with 120 agents and styled more than 500 homes since then.
Mr Bouris from Yellow Brick Road was one of the judges, along with David Rohrsheim from Uber Australia, Lisa Messenger from The Collective magazine, and Creel Price and Trevor Folsom from start-up generator Investible.
By winning the competition, Ms Murray has earned a place at the Branson Centre of Entrepreneurship, which was founded by Richard Branson.
She will also get to appear on The Mark Bouris Show for the chance to secure funding and mentoring.
Dressed for Sale employs 17 staff.
[Related: Styling helps deliver record sale for agent]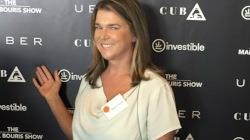 Written by

Staff Reporter