Chris Le from Hockingstuart Yarraville achieved a new Footscray record of $2.11 million for a six-bedroom house by working hard to overcome the negative stereotypes about the suburb.
The selling price was 58 per cent more than the $1.33 million that the vendors paid for the home in March 2014. It was also well above the reserve price of $1.5 million – which, coincidentally, was also the old Footscray record.
Mr Le told REB that it was a challenge to convince people to buy the most expensive property in the suburb – and that buyers were initially sceptical when he sang Footscray's praises.
"My biggest task was not only to sell the property itself, but also the area – meaning, how I can help buyers to justify spending that money in Footscray," he said.
"During the conversations that I had with buyers, apart from telling them how beautiful the house is, I spent a lot of time talking to them about the area.
"In particular, I told them Footscray has changed dramatically compared to what it was a couple of years ago."
Mr Le said he worked hard to get his buyers to emotionally invest in the property through repeated conversations during the campaign.
One point he noted in his discussions was how strongly Footscray values have grown in recent years.
The median house price is $650,000, according to CoreLogic RP Data. That represents growth of 5.0 per cent over one year, 22.6 per cent over three years and 14.0 per cent over five years.
Mr Le said he won the listing by persuading the vendors that he could attract cashed-up buyers to what has traditionally been a working class suburb.
"I utilised a number of marketing methods to target the buyers coming from the other side of town," he said.
"I featured the property in Hockingstuart's Red magazine during the entire campaign so that buyers from the other side who are looking in Hawthorn, St Kilda or Armadale would see that property featured in the magazine."
[Related: Would sir like a house with that champagne?]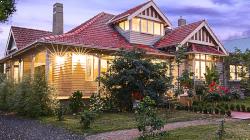 Written by

Nick Bendel