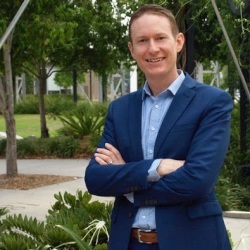 Question: What do bookstores, taxi companies and newspaper publishers have in common?
Answer: They've suffered massive disruption, lost millions in revenue and had billions of dollars stripped from their valuations. They also share traits that make them easy targets for digital disruption, including:
Status quo – They had business models that remained largely unchanged for decades;
Non-differentiated – They provided a roughly similar product or service as their competitors i.e. whatever taxi company service you use, you get pretty much the same experience;
Middle man – They involved a 'middle man' who connected two parties. For example, newspapers connect journalists with readers, taxi companies connect drivers with passengers;
B2C – They are business to consumer (B to C) industries; and
Expensive legacies – They have large legacy business models that can't be easily changed i.e. printing presses for newspapers, physical locations for bookstores.
In the real estate industry, experts agree that we are facing unprecedented times and significant disruption, particularly to the property management industry, is likely to occur at some point.
There are approximately 10,000 residential real estate agencies in Australia managing 2.3 million rental households, generating around $3.2 billion of property management revenue. It is a very big market that has yet to feel any significant impact from serious digital disruption.
This lack of digital disruption is even more surprising when you consider both the sales and property management industries share all the above traits that taxis, bookstores and newspapers had prior to their disruption.
The Australian real estate industry is a textbook case for disruption. Let's look at those traits again:
Status quo – Has the business model of real estate agencies remained unchanged for the last few decades? Absolutely.
Non-differentiated – Is it hard for consumers to differentiate between the services offered by different real estate agencies? Most definitely.
Middle man – A big 'yes' on two fronts. Agencies connect property managers with landlords and property managers connect tenants and landlords. The same applies in sales.
B2C – Another 'yes'.
Expensive legacies – Traditional agencies have sizeable business model legacies. Bricks and mortar offices for a start, and perhaps the biggest legacy of all is the perceived value of existing rent rolls. It's hard to imagine an agency principal striving to reduce the revenue they charge a landlord when they've got millions of dollars borrowed against a rent roll that's valued on a multiple of revenue.
If these truly are the characteristics of an industry ripe for disruption, there's a very compelling argument that Australian real estate businesses are in for a big shock, especially if you consider the amount of funds being invested in disruptive real estate technology businesses around the world.
Data shows that funding for real estate technology businesses has increased over 1,200 per cent since 2012, with $2.6 billion invested in 2016, up from $221 million in 2012. Since 2012, more than $6 billion has been invested in real estate-related technology businesses, and that's just the investment that has been made public.
Undoubtedly, many smaller businesses have received funding that hasn't been announced publicly, with the total number of technology businesses operating in the sector likely to be in the thousands.
With thousands of businesses around the world with billons of capital working on a technological solution to displace traditional agency models, it's almost certain some of them will succeed. And if disruption is imminent, where is it likely to come from and what should the industry do to prevent going the same way as taxis, bookstores and newspapers?
This is, of course, the million-dollar question or should I say the billion-dollar question? The following are a few of the leading disruptive contenders:
Purplebricks – Purplebricks claims to sell a property for between $4,500 and $5,500 commission. It is the one disrupter that everyone in the Australian industry is talking about because of their high-profile launch in September 2015.
To date, it has received US$99.3 million in funding, with its most recent capital raising taking place on 4 December 2015. In the UK, Purplebricks has more than 400 local property experts, it is publicly listed with a value of approximately A$600 million and is expected to sell between £6 billion and £7 billion (or A$11.4 billion) worth of property in 2017. It currently operates in the three major east coast Australian markets.
Opendoor – If you opt to sell your property on Opendoor, you will be given a valuation from the start-up. Once you accept it, Opendoor pays you for your home and effectively 'flips' the real estate, seeking to sell it for a profit. This completely radical model is unique in that Opendoor owns its own inventory of homes.
While the predictive analytics the company employs to project home resale value are complicated, the experience for buyers and sellers is fairly streamlined. The service is able to provide a smooth and fast process to sell your property.
To entice buyers, Opendoor allows for self-guided property tours at any time, made possible by smart locks and security cameras. If you buy a house from Opendoor, you also receive a 180-point inspection, warranty and 30-day money-back guarantee. If it sounds like a gimmick, think again. The company just raised US$210 million and is valued at over US$1 billion USD. Because Opendoor solves two of the biggest questions home sellers have. How much will I get and how long will the sale process take?
Open Agent – Based in Sydney and founded by former McKinsey & Company analysts Zoe Pointon and Marta Higuera in 2013, Open Agent has more than doubled in size annually. Open Agent is the most successful of the 'find me an agent' services in the market. It helps consumers choose the 'right' sales agent for their property, using data analytics client reviews and feedback, and a range of other metrics.
Open Agent has more than 2 per cent of the national sales market and collect 20 per cent of the commission for each listing opportunity it generates.
These numbers would indicate that its revenue is greater than many franchisors who have a nationwide presence who are household names. Why? Because it's been able to provide the one thing to salespeople that franchise groups have not – the name and phone number of someone who wants to sell a house in the next 30 days.
Open Agent has achieved this significant market share in just a couple years, with a low-cost model. And by the way, Westpac Bank is one of its biggest investors.
What's clear is that technology is unquestionably going to change the way the suburban real estate agency in Australia operates. Disruption is coming and almost all disruptive technology becomes disruptive because it provides an equivalent or better service at a lower cost.
What can traditional agency businesses do to ensure their survival?
Experts agree that the best defence is to invest in technology that keeps traditional businesses at the forefront of the industry and at the same time reduces operating costs so they can more easily compete with low-cost technology alternatives.
This strategy of investing ahead of the curve to protect themselves is not just limited to overseas corporates. In Australia, AMP, Westpac, News Corp, Telstra, Optus, Wesfarmers and Seven West Media are just a few organisations with venture capital arms to their businesses. Many of these are investing directly in real estate technology businesses.
This is much harder to do in a fragmented market, where few of the 10,000 real estate agencies around the country have the financial capacity to run their own corporate venture capital arm. The big question is, can the Australian real estate industry put their differences aside and collaborate to ensure their survival?