All offices large or small need to plan for the year ahead and set realistic targets for their business, writes John Goddard.

Blogger: John Goddard, general manager of marketing and sales at Rockend

A key part of the planning process is to identify the key performance indicators you will use to measure success and what that will mean to your business.
Rockend uses the Balanced Scorecard Model to assist planning and set goals for our business. I recommend this approach if you want to develop a clear and easy to communicate view of where the business is heading and most important, how you will measure success along the way.
The four traditional focus areas of a Balanced Scorecard are:
• Financial goals
• Customer focused goals
• Process improvement goals
• Staff development and engagement goals
We start the formal planning cycle in April when leaders first meet to discuss their ideas for the new financial year. Over a series of formal meetings we draft a plan for each part of the business (sales, product development, client service, finance and people development). All plans follow the Balanced Scorecard simple one page structure to address the four focus areas. We craft the individual team plans to ensure that they meet the goals established by the CEO. At Rockend we box the goals into financial year quarters (Q1, Q2, Q3, Q4) to establish a target complete date for each action.
Rockend leaders share their plans within their team and across the company in June/July. In August we organise a Company day where all employees meet to formally receive our new plan, talk about the stretch opportunities and to have some fun. With over 150 staff and contractors, this gathering is a major event in our year and it provides the perfect opportunity to celebrate and make sure everyone knows where the company is heading.
The overall plan process I have outlined is simple to follow, but it does need some discipline to ensure the goals are measured as a year progresses. I believe that a simple one year plan is a must do for every business, so if you are going to do it, do it right!
---
About John Goddard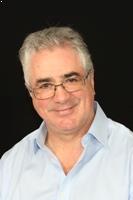 John has been with Rockend since 2004. He is a Chartered Engineer with a BSc (Hon) from the University of Hertfordshire in Industrial Engineering and an MA in Research Methods from Macquarie University. Prior to joining Rockend, John held engineering, consulting and sales leadership positions in companies including BOC, Coopers & Lybrand, Hewlett-Packard and Telstra.
During his time as CEO, John led Rockend through a period of significant change to become the clear market leader in property and strata management software solutions. Client numbers increased x 3, revenues x 5 and net operating profit x 8. Improvements were achieved through six main strategies: a complete brand refresh; development of a national sales team; recruiting and developing a new leadership team; building a customer service culture second to none; deploying a companywide CRM/ERP platform, and most important of all, implementing innovative staff engagement and development programs.
As the current General Manager of Sales and Marketing John's continuing priority is establishing successful business partnerships to help real estate and strata management businesses grow and maximise profits.
Make sure you never miss an episode by subscribing to us now on iTunes
And dont't forget to leave REB a review!

Listen to other installment of the Real Estate Business Podcast