John Goddard shares what a recent visit to Westmead Hospital taught him about the meaning of life and business.
Blogger: John Goddard, general manager of marketing and sales at Rockend
Many writers on leadership and management refer to the simple truth that organisational integrity is established by its leader and how the leader creates an environment focused on customer success and delivery.
I recently had the opportunity to visit the Children's Medical Research Institute (CMRI) located on the Westmead Hospital campus at Parramatta. CMRI is a place focused on achieving great outcomes. Led by Professor Roger Reddel, their research programs span years and seek to first control and then ultimately prevent cancer and other illnesses that cut short a good life.
I had the opportunity to watch one program on cell transformation where scientists are studying the differences between cancer cells and normal cells. It's clear that cancer cells have significantly different growth properties than a normal cell and for some as yet unknown reason are resistant to the processes that would normally lead to cell death. This combined with their ability to keep on multiplying, make cancer cells very difficult to kill, except by surgical removal or very aggressive chemical/radioactive therapy.
In a small dark laboratory I was able to watch both cancer and normal cells separate, grow and die, through a high powered computer controlled optical system. This series of experiments will run throughout 2014 as the research team continues to explore how cancer cells can be managed or eliminated in the longer term.
So is there a common connection between basic cancer research and real estate practice? Put simply both need focus and long term commitment to succeed, but they also need great leaders to make a real difference to our lives. When you can see both cancerous and normal cells behaving in real time, it really makes you think about the building blocks of life.
You can then extend that concept to the life of a business. Very soon we will all start a new year and like any new period it's an opportunity to ask some basic questions about the business and what you want to achieve. Your business plan may not be as extensive the research plans and grant applications that Roger Reddel and his team write, but you should make sure that they are grounded on good theory and business practice, if you want to achieve a breakthrough in 2014.
For more information on the work that Roger and his team of over 100 researchers do at Westmead Hospital, please go to www.cmri.org.au.
---
About John Goddard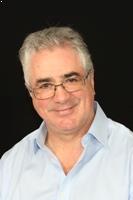 John has been with Rockend since 2004. He is a Chartered Engineer with a BSc (Hon) from the University of Hertfordshire in Industrial Engineering and an MA in Research Methods from Macquarie University. Prior to joining Rockend, John held engineering, consulting and sales leadership positions in companies including BOC, Coopers & Lybrand, Hewlett-Packard and Telstra.
During his time as CEO, John led Rockend through a period of significant change to become the clear market leader in property and strata management software solutions. Client numbers increased x 3, revenues x 5 and net operating profit x 8. Improvements were achieved through six main strategies: a complete brand refresh; development of a national sales team; recruiting and developing a new leadership team; building a customer service culture second to none; deploying a companywide CRM/ERP platform, and most important of all, implementing innovative staff engagement and development programs.
As the current General Manager of Sales and Marketing John's continuing priority is establishing successful business partnerships to help real estate and strata management businesses grow and maximise profits.
Make sure you never miss an episode by subscribing to us now on iTunes
And dont't forget to leave REB a review!

Listen to other installment of the Real Estate Business Podcast