As any real estate professional knows, the property market is no longer what it used to be.
Buyers come armed with property prices, information on the local area, research on sales history and just about every other piece of information that once used to be the closely guarded secrets of the trade.
This new crop of savvy property buyers has resulted from ongoing technology innovations in the global property market.
Just about anything can be Googled now, the practice becoming so common that the name itself has become a verb. Almost everything comes with an app, with information only a click away.
As buyers become more technologically aware and able to bypass property experts in a number of matters, it raises the question: how does the property expert remain relevant?
According to recent statistics, Domain Group saw significant growth in their digital audience, while Nielsen Online Ratings placed the property group's audience at 2.5 million, a 65 per cent increase on last year. With figures showing that technology usage is growing, opting out is definitely not an option. Instead, it's time the industry embraced technology and used it to their advantage.
While it might seem counterproductive, opening up all data and information to the public is a necessity. The practice of data democratisation is not a foreign concept. Many business models have changed the way they operate simply by making information free, open and accessible because they understand that information is a two-way street.
In the United States, property heavyweight, Zillow, acquired key property player, Trulia, for a final figure of $2.5 billion. Citing them as the key motives to merge, the property powerhouses wanted to corner the online market, cultivate faster innovation by combining resources and ultimately, make data more readily available to create a more informed market after they noticed an increase in online real estate traffic.
Australia's property market can learn from international examples such as these. As more buyers use online platforms and applications to search for places to live, it becomes easier to predict market trends and better understand buyer behaviour.
Having the ability to capture analytical data from consumer activity through the use of technology puts the real estate agent back in control. It offers property experts a more detailed snapshot of buyers and puts them in a better position to target a wider cross-section of the market.
Industries that have embraced technology are leaving their more stubborn counterparts behind. They understand that the technology wave can't be fought, either get swept up with it and ride the crest or lag behind and struggle to stay afloat.
If we can learn anything from our international siblings, it would be that the property market is not exempt from change driven by innovation. Data democratisation is fast becoming an inevitable fact of life for consumers everywhere. Those in the real estate industry who embrace this, and help guide their client thought the deluge of information, are the ones who will gain a competitive advantage.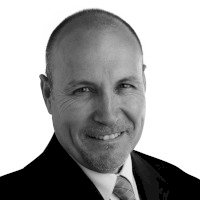 Dr Andrew Wilson is one of Australia's leading housing market experts. He is the Senior Economist for the Fairfax-owned, Domain Group and presents property market intelligence widely to industry and investor groups around Australia.
He is a housing market speaker and presenter for the Committee for Economic Development of Australia (CEDA) and an appointed housing market expert and adviser to the Federal Government funded, Australian Urban Research Infrastructure Network. Dr Wilson's experience spans senior property and construction research positions within industry, academia and government. He has published research in various academic journals and industry publications, covering a wide range of residential property and construction issues.
Make sure you never miss an episode by subscribing to us now on iTunes
And dont't forget to leave REB a review!

Listen to other installment of the Real Estate Business Podcast