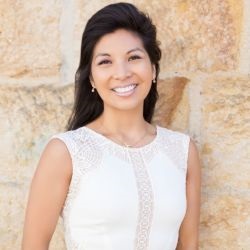 Working in property is not for the faint-hearted. I made the career change from animal and veterinary science to the high-pressure role of a buyer's agent following the suggestion of a friend who saw qualities in me that I was not yet fully aware of.
I felt way out of my element, and wasted energy doubting my own abilities. I questioned whether I had made a mistake — until I learnt to develop a positive mindset.
Break through your own negative barriers
During my first year I was introverted and risk-averse. I somehow developed an anxiety about make phone calls in front of my co-workers, instead hiding in my car to cold-call potential clients. I had some internal barriers and a fear of working in a commission-only role.  
It's important to be aware of when you're stuck in a negative mindset, and make a conscious decision to work through it. No matter what career field you choose to jump into, give yourself time and don't be discouraged if things don't go the way you expected. That is part of life. Don't stress and waste energy on worrying how you will get there, just decide that you will.
Positive mindsets create a snowball effect
When I made the decision to stop being fearful, it changed everything. I began to see challenges as potential opportunities. This positivity can be attributed to many things, but one notable factor was the mindfulness and meditation training provided by my employer. 
Calming my mind and dissolving the 'head trash' allowed me to focus on what was important – helping people throughout their property purchase process, which for many can be extremely time-consuming and emotional. It snowballed from there – I became more confident in my abilities, and one small success led to many more 'wins', both big and small.
My clients had great experiences, referred me on, and the positive cycle continued.
Work with people who know the value of positivity
The real estate business is performance-based, and when you're not given the right platform to succeed, you can falter – which is why I believe so many young people leave the industry after 12 months. A supportive workplace culture is paramount for success and fulfilment.
I work in a company where those with more experience are always willing to offer advice and support to new recruits. I attribute a lot of the positive changes in my mindset to one of my managers who has taught me to see any challenge as an opportunity to grow. I've had access to the tools I needed to succeed and am now very humbled to be building my own team. 
I've grown from the timid agent purchasing four properties in my first year to one of the highest performing buyers' agents in the company – and it was all because of my mindset.
Your limitations are most often all in your mind, and if you can change your perspective, anything is possible.
A former Gold Coast real estate director has been arrested at the airport and ch...
The Reserve Bank of Australia has made its official interest rate call for Augus...
McGrath Estate Agents has recruited an acclaimed top-tier agent to its company-o...
LJ Hooker will make Australian real estate history as it reveals its pioneering ...
By now we are all aware that, as a business, having a professional presence on s...
Home values maintain their upward shift this week in all but one capital city, w...