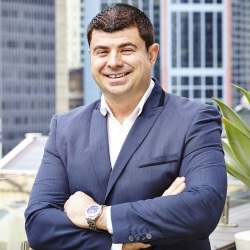 Spring is always a bumper season for property buyers and sellers alike. There's usually more properties going up for auction, and more people looking to snag a new home.
But with property prices as high as they are at the moment, it's hard to imagine them increasing even more this spring — and in fact, they might not. I think this spring, prices may begin to plateau, leaving room for a more first-home-buyer-friendly market than in previous years.
Is there a property bubble?
When house prices go up, people love to talk about the "property bubble". And with the inflated prices in hubs like Sydney and Melbourne these days, it's easy to think a bubble is forming.
But if you look at the income to repayment ratio on the majority of loans these days, you'll find that house prices aren't that out of step with the last 20 years.
If anything, I think there may be a "first home buyer bubble" in popular areas like Sydney and Melbourne, where young buyers are being locked out of the market by high price points.
For seasoned investors, or those looking to increase their existing mortgage and buy a new place, I don't think there's a bubble as such. For a bubble to really form, I think house prices would have to keep increasing at the same rate they have been until at least the end of this year.
But I don't think that's going to happen, because it seems we may have just about hit the top of the market in many areas.
Are property prices set to decline?
Does that mean the bubble is about to burst and prices will suddenly drop? Well, if there is a first-home-buyer bubble, then it's not about to pop this spring season. Instead, it might begin to deflate a little bit as interest rate hikes and regulation changes dampen investor enthusiasm.
My prediction is that prices may begin to level out this spring, which means that sellers may need to adjust their price expectations. Just because your neighbour sold for $900,000 last year doesn't mean you'll sell for $1 million this year. The good news is, this gives young buyers a chance to break into what was shaping up to be an impossibly competitive market.
There are three main factors that may work to halt the upward movement of house prices and help first home buyers get a foot in the door:
1. Interest-only mortgage rates are on the rise.
Last August, there was an RBA rate cut in the lead-up to the spring property season, and markets in both Sydney and Melbourne opened strong. Sydney, in particular, opened the spring season with clearance rates well above 80 per cent and plenty of buyer interest.
This year, the situation is almost reversed. The official cash rate may be on hold, but banks are hiking rates on home loan lending, particularly for interest-only and investment lending. What this may mean is that property investors will pull back from the market as it becomes less affordable to borrow the massive sums needed to buy into hubs like Sydney and Melbourne.
Without as much investor interest, housing prices may begin to level out, which is good news for first home buyers. These buyers have also caught a break with interest rates, since 23 lenders have actually cut owner-occupier rates since the beginning of July. There are now 66 lenders offering rates under 4 per cent, so these buyers are still in a relatively good position.
2. Regulatory changes are dampening investor enthusiasm.
Similarly, investor interest is being dampened by regulatory changes. APRA has enforced stricter limits on investment, interest-only and low deposit lending this year, which has caused a flow-on effect in the kind of deals being offered to customers.
By that, I mean that these regulation changes go hand in hand with banks raising interest rates, since one of the main reasons for these rate hikes is to discourage loan applications so lenders can stay under the lending limits set by APRA.
On the other hand, owner-occupiers in Victoria and NSW will also benefit from new changes to stamp duty concessions, which means that first home buyers buying property under $650,000 in NSW and $600,000 in Victoria are exempt from paying stamp duty.
This will boost their borrowing power and keep them in markets where the supply of homes under the concession price thresholds are plentiful (such as Melbourne).
3. Record building activity is increasing supply.
We've seen a huge amount of new developments go up this year, which means more auction supply in key markets. That could temper some of the strong demand for housing and provide buyers with more choice, which means that sellers may not be able to expect the same astronomical selling prices as they've been getting for the last year or so.
Will this mean that the property bubble will burst and you'll soon be able to buy in the middle of Surry Hills for $700,000? No. But increased supply does mean that prices may become more manageable as air comes out of the so-called "bubble".