When it comes to figuring out the most effective and time-efficient marketing techniques to boost your brand profile online, it can be a case of social media onslaught.
With so many platforms and only so many hours in the day, it is important to consider your target audience and make sure that your business brand has a voice that can be heard by the right people, on the platforms where they spend time.
LinkedIn is one of the leading social media platforms for professionals looking to build professional connections, seek job opportunities and stay up to date with the business and corporate world.
Despite that, LinkedIn doesn't have the reach of other popular social networks in Australia and, in fact, the 2017 Sensis Social Media Report findings revealed that the popularity of the platform was down to 18 per cent, from 24 per cent in the previous annual survey.
Still, with a huge number of professionals using LinkedIn actively, it can certainly be useful to have a well-optimised and professional profile on the platform.
Try these practical tips to optimise your profile on LinkedIn.
Invest in a professional portrait
If you've ever had an invitation to connect with someone whose LinkedIn profile headshot looks like it was taken in their bathroom, with the light from their smartphone flash bouncing back against the mirror, you'll know how unprofessional bad imagery can look.
So how does your own headshot stack up?
People are busy and when they scan through invitations to connect with people on any social media platform, one of the first ways they can make an assessment of your business reputation is to make a judgment about your profile, and that means looking at the way you are portrayed in your accompanying picture.
Having a professional photographer shoot your headshot doesn't have to cost a fortune. To make it worth your investment, think about the ideal outfit to suit your industry and target clientele and make sure you are looking your best. If that means having your hair done and taking some extra care of your skin before the shoot, just do it!
Get your headline right
Although all the tips listed are an important part of creating a professional profile that will help you get noticed, none of it matters much unless you've got your headline right.
Creating a powerful headline for your LinkedIn profile is critical because it helps you be seen by people who might be searching for people in your industry. Plus, it helps people you invite to connect with and make a decision about whether or not to accept your invitation.
If you run your own business, list your main role at your business, then the name of your business. Then, because you have 120 characters to utilise to detail your offering, you can use different ways to describe yourself to help boost your chances of being noticed in searches.
For example, the ideal headline for you might look something like this:
John Smith – Real Estate Agent, Smith & Co Real Estate Agency | Real estate sales professional in Timbuktu
Express yourself clearly
The summary section of your LinkedIn profile is where you can detail the benefits you provide to your customers and clients and display your motivation and passion for your industry. Don't waffle.
If you have niche services on offer, explain them. Imagine that you are talking to your ideal connection personally, so you can include points that will matter to them when you are creating your summary. With 2,000 characters to play with, you have scope to go into some detail about what's most important, and don't forget to end with a call to action that lets people know how they can best get in touch with you.
Using keywords that are relevant to your industry and service offering will help optimise your profile — and that means getting found by potential clients and customers who might need your expertise.
Always write your summary in the first person. After all, LinkedIn is a social media platform that is all about connecting with real people. Yes, you will see other people's profiles written in the third person, but don't be tempted to copy. To encourage people to connect with you, it's helpful to sound welcoming, personable and genuine.
Add new connections
A few minutes of strategic engagement per day on LinkedIn can see your connections numbers boosted steadily. Think about who you would like to be connected to boost some aspect of your business, and search for people with that job title or skill set in your area. Send them an invitation to connect with a personal note.
People hate being sold to, so don't be pushy.
Send a polite invitation that you are keen to expand your local network and were impressed by their profile and experience. Make sure you actually are impressed, of course; be genuine and connect with people you really want to be connected to, not just to add some more numbers.
If you aren't sure where to find your ideal clients on LinkedIn, start by adding your peers. Building relationships with people in non-competing and complimentary markets can help with referral business.
If you have an email list, you can upload these people to your LinkedIn profile and invite them to connect with you as well.
Add videos and images to your profile
Images are always engaging, so find some that are relevant to your industry and add them to your profile. It's positive to share personalised images of your team, branding videos and examples of your work on your profile as well. An incomplete profile can be off-putting. Quality imagery such as a beautifully styled home you have sold, or a happy buyer in front of the signboard post-auction, are all photos to share with your audience as a permanent part of your profile. No matter what industry you are in, pictures really can be worth a thousand words, and by adding imagery to your LinkedIn profile, you will help yourself stand out from the pack.
Get and give recommendations and endorsements
When was the last time you sent an unsolicited message of thanks for professional services you've enjoyed? If you've ever received one yourself, you'll know how happy it can make you feel — and it's a great promotional tool for your business. Now see it from the other side and make time to share one with someone who has provided a service or professional support to you. Think of colleagues, mentors and affiliates to your business or agents in non-competing markets that you know. Be genuine. It makes them feel good and helps their business reputation grow.
That, in turn, makes them think about you in a positive way. It's never a great idea to do something purely in the hope that you will receive something back, but the flow-on effect can be that you remain top-of-mind for them and that makes them more likely to refer you. Plus, when they make your recommendation public on their profile, your name and business name can be seen by all of their connections — something that can broaden your network in a positive way.
When you have delivered service you're proud of to one of your own clients, inviting them to give you a recommendation or endorsement is just as important.
If potential clients are considering doing business with you, a quick scan of your LinkedIn profile will let them see glowing testimonials from satisfied clients — and that creates great trust and more business leads.

Whatever social media platform you do decide to spend time on, the key tip is to make everything congruent with your brand and to be consistent. Small interactions every day make a real difference to the way your audience perceives you — and that can lead to better business.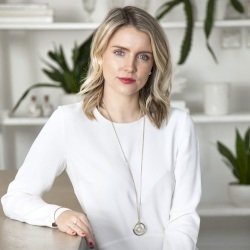 Tiffany founded Chronicle Republic to pursue her love of property and her drive to make brands shine. Her unique industry experience means she truly understands the needs of her customers.
With a Masters in Marketing and a Bachelor of Arts in Communications Tiffany has wealth of experience, and has worked on dozens of marketing projects for businesses in the property, interior design and home improvement industries.
Former Marketing Director for an award winning, innovative real estate agency, Tiffany was awarded the first ever industry award for Digital Marketing in 2014.
Tiffany is passionate about seeing other businesses grow and prides herself on helping brands bring their stories to life.