Social media is an ever-changing landscape. As platforms race to stay ahead of the latest trends, it's crucial to remain in touch with the latest updates to each social media channel.
Businesses looking to succeed online should pay attention to these latest updates to ensure their content receives optimal reach and engagement. Read on to discover the latest updates to Facebook, Instagram and LinkedIn, and learn how to incorporate these new tools into your social media strategy.
Changes from Facebook
Facebook CEO Mark Zuckerberg has indicated that Facebook will work to increase and improve its data protection controls globally following the Cambridge Analytica data breach. You may have already received emails from Facebook or Instagram prompting you to read and accept their updated policies and terms of use. The sites will now present a clear Privacy Notice to users before they sign up and begin using these platforms.
Major reforms have been introduced to the third-party apps and software used to share and manage content on Facebook. These changes to Facebook APIs include:
Facebook won't allow third-party tools to manage Facebook Groups
You will no longer be able to manage private messages received on Facebook Business Pages using third-party tools
Third-party tools can no longer search, mention or tag users or pages in Facebook captions
To address growing privacy concerns, Facebook is set to launch a "Custom Audience" certification tool to ensure that all email addresses and database files uploaded for ad targeting have been obtained rightfully.
Personal connections receive priority
One of the most significant changes to the Facebook platform in 2018 has been the shift towards genuine content in the News Feed.
In January 2018, Mr Zuckerberg announced that the platform will be helping users to "have more meaningful social interactions" by giving preference to content shared by user's friends and family over businesses, marketers or news outlets.
This has forced businesses to readjust their efforts on Facebook as posts will no longer receive any organic reach on the platform unless their content is sponsored.
Time to pay attention
The latest changes to the Facebook algorithm all stem from the platform's desire to move away from passive engagement.
With many users simply scrolling through never-ending feeds of auto-playing video and image content, Facebook is changing the way it preferences content in the News Feed to encourage deep engagement.
Facebook aims to generate meaningful and authentic conversations by prioritising posts from brands that generate active engagement. Content that inspires users to share, comment and connect with others will make its way to the top of the News Feed.
Adding a call to action in your post captions as well as replying to user comments to generate conversation will increase the reach of your posts on the Facebook platform.
Changes to Instagram
Instagram has also tightened its controls to limit the access of third-party apps to user data. Third-party tools will no longer allow companies to:
Reply to or like content
Access the full profile of Instagram accounts
Access another user's list of followers
Follow or unfollow users
Search for content using hashtags or geo-tag locations
Increased privacy controls for direct messages
Instagram has just released new controls related to recipients replaying images or video sent via direct messages. Users will be able to decide whether images and video shared in a private message can be viewed repeatedly or just on a one-off basis.
We predict users will feel an added sense of confidence when reaching out to businesses on Instagram, knowing they are able to establish boundaries around the information and content they share.
Instagram's new privacy controls are helping to build trust between users on the platform, encouraging personalised communications that foster one-to-one relationships.
The latest from LinkedIn
For real estate businesses and professionals wanting to share their success online, LinkedIn is a fantastic social media platform. Over the past four years, LinkedIn's publishing tools have undergone tremendous evolution.
In 2018, the platform's native posting functionality allows users to publish articles and video content directly to their personal LinkedIn profile. Uploading long-form content to LinkedIn publishing enables users to showcase their expertise to their network of professional connections.
Currently, this feature is still limited to personal profiles, with company pages yet to see this feature introduced. Establish yourself as an industry leader by regularly publishing articles and video content with LinkedIn publishing.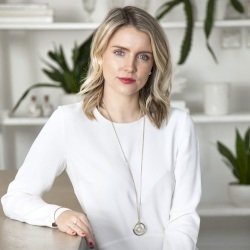 Tiffany founded Chronicle Republic to pursue her love of property and her drive to make brands shine. Her unique industry experience means she truly understands the needs of her customers.
With a Masters in Marketing and a Bachelor of Arts in Communications Tiffany has wealth of experience, and has worked on dozens of marketing projects for businesses in the property, interior design and home improvement industries.
Former Marketing Director for an award winning, innovative real estate agency, Tiffany was awarded the first ever industry award for Digital Marketing in 2014.
Tiffany is passionate about seeing other businesses grow and prides herself on helping brands bring their stories to life.