There are few more competitive industries than real estate. Agents need to be ahead of the game, just to keep up with the fast pace of the changing marketplace.
Customers are expecting more flexibility and transparency than ever before, and almost every day we're seeing new technologies, ideas and approaches disrupting the market. To succeed, you need to have your finger on the pulse and a strong value proposition that keeps customers coming back.
It's a lot to juggle and with so much on your plate, effective time management can be an agent's biggest barrier to success. There are a lot of things that can get in the way of prospecting, listing and selling, from being on top of changing legislation to working on marketing materials. But one of the biggest time chewers is the exchange of agency agreements.
The paper contract exchange is an entrenched and onerous way of doing things. It binds us to the office and is a constant roundabout of chasing people to check they've received and signed paperwork. You're also asking your time-poor customers to come into the office to sign documents, or print and scan them at home. In today's world where exceptional customer service is the expectation, this process no longer stands up.
It's been almost 12 months since I signed my last paper contract. We switched to an electronic system of preparing, signing and managing agreements at the end of last year and it has been a game-changer for me as an agent, and for our business. Since we switched, we've had our biggest quarter ever and we're projecting a 65 per cent increase in sales in 2018.
Taking our contract processes online has been a big driver of this success. It's allowed us to fundamentally improve the way we're operating as a business.
Our agents can manage contract exchanges from wherever they are — at home, in the car or on the move. This mobility allows them to increase the number of sales they're able to juggle at any one time while also giving them a better work/life balance.
Customers have also embraced the technology.
Within three months of moving to this system, 80 per cent of contracts were being electronically signed by customers of all ages. This not only makes the process much smoother from both sides, it also means we're getting contracts back in hours, rather than the days that it used to take.
If we don't, the agent can at least see the contract has been received and can call the customer to see if they have any questions or concerns. This is allowing us to deliver a whole new level of service to our customers, and means we can spend more time focusing on listings and sales.
Real estate is an incredibly competitive market, but there are some simple ways that you can get ahead. Start by looking at your processes, think about ways to provide more efficient and convenient service and don't be afraid to try something new. It may give you the bottom line boost you've been working towards.
ABOUT THE AUTHOR
---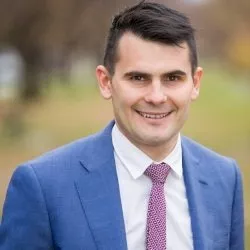 Tom Hector is a property consultant and auctioneer at Harris Real Estate.