Someone recently said to me that if you want to prepare your children for the world, stick up one of their drawings on the fridge and then write a bunch of mean comments underneath it. While this comment was tongue in cheek, there is some truth to it, and it sparks concern for where the anonymity of the digital world is taking humanity.
In a world where you can hide behind a screen, negativity is commonplace. You don't have to look far – whether it's a nasty message in your inbox, an unfairly biased Google review or a rude comment on your Facebook page.
We deal with thousands of engagements every week and I can tell you now, we've had some interesting ones! In your personal life you can choose to block and delete negative Nellies, but as a business it's often not the best approach.
First, it is imperative to make sure that someone is monitoring your social sites for engagement, both good and bad, and ready to act on leveraging positive comments or addressing negative ones. Unanswered feedback gives the impression you just don't care.
Responding to online complaints
When replying to comments, here are some key things to keep in mind:
• Direct negative conversations offline. Depending on the situation, try and speak to the complainer over the phone to reach a resolution. Email or private message can be used for more minor issues to reduce the complaint being publicised;
• Don't get defensive and be aware of your tone, written and verbal;
• Apologise without being patronising. Avoid responses such as "I'm sorry you feel that way";
• State the facts but remember to be warm and show empathy; and
• Reinforce company values in your response. Contrast the complaining customer's experience using your company values, this will show them that you are both addressing their concerns and that it is important to you.
Hide, delete, block
Depending on the nature of a social media comment, you can choose to either hide it or delete it, and you can also block the offending user if you wish.
If you hide a comment, it will no longer be visible on your page except to the user who posted it, and their friends. You may choose to hide comments that seem arbitrary, but are not necessarily harmful or offensive. You can also unhide the comment at any time.
However, if a comment is harmful or offensive, the best option is to delete it – in my opinion there is simply no need to tolerate derogatory or hateful comments.
Deleting the comment will remove it from your page permanently. You are also given the option to ban offending users from your page, which means they'll no longer be able to publish to your page, like or comment your page's posts, message your page or like your page.
If a person has a genuine complaint, I don't suggest deleting it – even if you don't like it. This could cause the situation to escalate unnecessarily by sending the complainer on a digital rampage. Instead respond publicly and direct the complainer offline, this shows your customers you care enough to act.
Managing your reviews
Online reviews are often a fantastic way for customers to gauge whether your business or brand will be the right fit for what they need and want. While strong positive feedback will give you an excellent advantage over your competitors, in the same way, negative feedback can also be very damaging, and will speak strongly about your business.
When it comes to reviews, it is better to prepare and prevent, rather than repair and repent. That is, it is easier to generate positive reviews that will serve to overpower the negative, rather than trying to mediate the negative review after the fact. Be proactive about generating positive client reviews and encourage happy customers to leave feedback. 
Once live, negative reviews can be difficult to remove from your Facebook or Google page. Some people may even leave fake reviews that include false statements or allegations in an attempt to sabotage your brand (hello competitors!). Typical characteristics of fake reviews include:
• The reviewer's name is not in your existing customer database;
• The reviewer has left similar reviews for other businesses;
• The reviewer provides no further comment or elaboration on their experience; and
• The review contains false information.
If you believe that someone has left a fake review, you can report the post to Facebook ('report post') or Google ('flag as inappropriate') for the team to review and (hopefully) remove. (Google is more likely to act on a review that has been flagged more than once, so if possible, you should request a number of colleagues to flag the post too!)
However, it is unlikely that legitimate feedback from unhappy customers will be removed. While reviews themselves cannot be deleted, you can disable Facebook reviews from your business page altogether. This will hide all existing reviews and prevent any new ones from being written. Unless you plan to actively acquire positive feedback for your business, consider disabling Facebook reviews as a preventative strategy.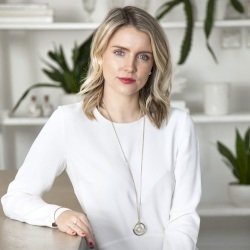 Tiffany founded Chronicle Republic to pursue her love of property and her drive to make brands shine. Her unique industry experience means she truly understands the needs of her customers.
With a Masters in Marketing and a Bachelor of Arts in Communications Tiffany has wealth of experience, and has worked on dozens of marketing projects for businesses in the property, interior design and home improvement industries.
Former Marketing Director for an award winning, innovative real estate agency, Tiffany was awarded the first ever industry award for Digital Marketing in 2014.
Tiffany is passionate about seeing other businesses grow and prides herself on helping brands bring their stories to life.