Boards and results alone, unfortunately, aren't enough to grab the attention of the market in this day and age.
A few years ago, I decided to take a break from social media and I ran into a client who asked if I was taking time off work. At the time, I was writing excellent figures, with boards all over Bayside and great market share. 
We are in a world of information and technology with real-time access to people, and at the end of the day, as real estate agents, it's about being front of mind. My own strategy now includes both social media and traditional marketing, like the trusted letter drop.
Whether you like any of that or not, if you're not in it, you won't be on people's shopping list.
Gaining attention isn't necessarily the hard part though. Celebrities come and go and you can get attention for all the wrong reasons. You can be high on everyone's agenda as the in-vogue influencer; the challenge is in maintaining that attention.
In my experience, it comes down to a few key factors. You need to be consistent, both in frequency and key messaging, and you need to diversify your efforts. Instead of putting all your eggs in one basket, employ various platforms to get your message out there, from social media and letter drops to videos and events. You need to put yourself out there, while making sure you remain genuine and true to yourself. You will never gain attention for the right reasons or hold onto it, if what you are putting out there is fake or is someone else's version of you.
So, where do you start? Ask yourself some key questions, starting with, who am I? What kind of client am I trying to attract? What message am I trying to send?
Every single move you make in any form of public forum must have an objective. It all comes back to what you are trying to achieve. The end result should drive your strategy and underpin everything you do. Without first figuring out your end goals, you could be communicating the wrong message.
Once you've figured out your objectives and key messages, back up this strategy with actual results. There are lots of people out there who are massive attention grabbers. You see them everywhere. On closer inspection you realise they aren't doing any business.
They have no performance or results to support their public persona, leading to misleading messages that could be considered at best embarrassing or at worst downright dishonest.
There's a fine line between putting yourself out there to be considered for opportunities, and building a profile and a brand when you don't really have a story to tell yet. My advice for young agents is to leverage off high performers or outstanding results in your office.
Try to link yourself with a high-performing team or a more experienced agent to propel you in an upwards trajectory. By doing so, you'll not only gain invaluable knowledge and experience, you'll also increase the perception of yourself to potential clients.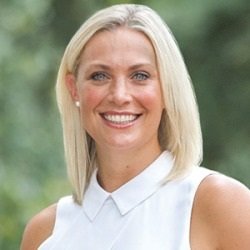 Kate is a director of Marshall White Brighton.
An accomplished real estate professional, she is positioned at the forefront of Marshall White's training and leadership program.
Kate played softball for Australia and represented Victoria in a number of sports.
She holds degrees in communications and business.