When looking for finance for your real estate agency, there are plenty of options on the market. Sources of finance vary widely, both in terms of features, drawbacks and benefits – the trick is to leverage the right finance at the right time.
In most cases, sticking to what you know is the comfortable option, but is it always the best one for your business? Maybe it's time to disrupt the status quo and review your current financing arrangements. Here's what to consider when shopping around:

Your current loan situation

Does your agency already have loans out? Are you able to comfortably handle your current financial obligations, before you take out a new one? These are the questions you should be asking before you take out a loan. If your agency already has a number of debts owing, your scope to take out additional finance with your bank may be limited. Alternative sources of funding, such as advance commission, is based on sales you've already closed, so in effect, it's a 'safer' kind of borrowing that eliminates the risk of debt spiralling out of control.

Why you need the funds

There are many reasons your agency might need finance. Are you planning to grow your agency and you therefore need a one-off injection of capital? Do you simply need to iron out some cash-flow inconsistencies? Determining why you need finance will dictate which form of finance you go for. For a larger injection of cash, a bank loan might be the best way forward. For smaller, but more frequent finance requirements, looking at more flexible and readily-available alternatives might be a better solution.

How accessible the funds are

Your reason for borrowing money will influence how accessible you need the funds to be. If you're looking for a one-off lump sum injection, waiting a few days for the funds and completing a lengthy application process might not be a big deal. If, however, you need a steady flow of cash to see you through cash flow droughts, you should look for finance that's simple to access, as and when you need it. Cutting out unnecessary admin and application processes will save hours in manpower and help you create a more efficient business too.

The borrowing fees

You may have been with your bank for a decade, but are they repaying your loyalty with great fees on overdrafts and other financial products? It's often easier to just leave things as they always have been – but it's also bad business practice. As an agency owner, you should always be thinking about cost control.  A bank is a supplier, just like any other supplier to your agency. It just so happens to supply you with finance. It's only sensible then, that you ensure you're getting the best rates from your bank. Invest time in shopping around. Look for a finance partner who can offer fixed, transparent pricing, with no hidden fees, no extra administrative costs and no hefty fines for late repayment.

Borrowing risk

Relying on one source of finance could prove a risky strategy for your agency. What happens if your lender decides to withdraw your loan facility tomorrow? Would your agency cope, or would it leave you high and dry? Diversify your borrowing and being aware of cancellation policies is a good strategy to protect the continuity of your business.
These are just some ideas to get you thinking outside the box. There are of course, many more factors you could take into account when looking for finance (such as industry expertise). It really comes down to your drivers and what's best suited to your current scenario. Do your research, weigh up all the options and make sure you get the most out of your finance partner.
ABOUT THE AUTHOR
---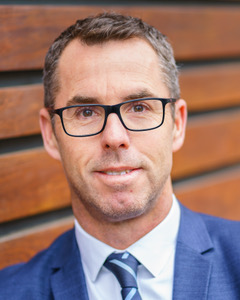 Justin Steer is CEO of both Commission Flow and Campaign Flow.
Both companies were founded with a vision to change the way Real Estate Agency Principals access the finance they need to grow, with an innovative, secure and flexible approach.
Justin has been an active participant in the real estate industry for nearly 25 years.  
In his spare time, Justin can usually be found swimming, cycling or running as he prepares for his next Ironman event.