The competitive nature of running a real estate agency can see your attention focused on the bigger picture, while expenditure silently swells.
Failure to regulate costs can put a strain on your cash flow, not to mention your business as a whole. It may sound trivial, but turning your focus to operational costs can greatly impact your bottom dollar – without squandering your valuable time. By incorporating the following techniques, you could see your agency's cash flow thriving sooner than you think.
Minimising overheads
Overlooking overheads is a sure-fire way to land yourself in financial hot water. Often, it's easier to just leave things with the same supplier because that's the way it's always been. But what about if you're overspending on the fundamentals, such as power? Your best bet is to lay everything on the table and figure out just how much you're spending on overhead expenses, right down to your energy bills and rent. Determine every which way each overhead can be reduced – don't be afraid to get creative either.  Let's use your energy bill as an example. How can you go about reducing it? Consider all these options:
-          Looking for a more competitive supplier
-          Replacing old appliances with more efficient appliances
-          Looking into timer switches for areas you don't use all the time (i.e. the washroom)
-          Training your staff to turn power off where necessary
You might find that some overheads simply can't be reduced. Focus on the areas where you can create an impact.
Embracing technology
Finding the right technology for your agency can severely increase productivity, helping you minimise the time and energy spent on day-to-day operations. Spend a few minutes online and you'll soon see just how many online tools exist to help you with every aspect of running your agency – from invoicing, to project management, customer relationship management and email marketing too.
If you're skeptical or hold any phobias when it comes to technology, most will offer a free (and therefore risk-free) trial, so you can road test how it might work for your agency. Also consider clever cloud apps such as Dropbox, which allow you to save documents in 'the cloud', making it easier to share, collaborate and work remotely. All these small adjustments will shave off time and therefore cost of doing business. If you don't have the time or the inclination to look into new technologies, delegate this task to an eager and tech-savvy member of your team.
Going second hand
Shopping around for pre-loved equipment such as photocopiers, PCs and other office essentials could potentially save thousands of your hard-earned dollars. Second hand doesn't have to mean old and run down; 'near new' can look as good as new at half the price – just ensure it works before making the purchase.
Renegotiating contracts
Many small business owners are under the impression that multiple-year contracts work out to be less expensive, holding a 'buy in bulk' mentality. The best option is to renegotiate contracts annually to confirm you're getting the best deal. This could also create a touch of competition between suppliers and help keep them on their toes.
Choosing a good accountant
Choosing the right accountant is crucial to the financial success of your business, so it's important to do your research. Don't forget, accountants are finance experts and most of them have extended their services to offer financial coaching services too. So, rather than just looking for an accountant who can do your tax return, why not look for one who is equipped to help you keep a tight grasp on your costs.

Aside from asking about the obvious (qualifications, services and fees), ask them about what ways they can help you manage your costs and cash flow. Check their website to see if they have any raving customer testimonials too.
Outsourcing non-core business activities
Thanks to the internet, today it's possible to hire freelancers from all over the world. In areas that are not your 'core' business areas (such as online marketing), you can minimise costs by recruiting contractors to work on an on-demand basis.
In business, it pays off to be a 'Scrooge'. Staying up to date with innovative techniques and new technologies and keeping a close eye on costs will set you up for a super healthy cash-flow situation. 
ABOUT THE AUTHOR
---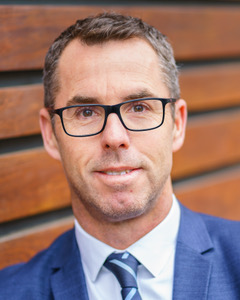 Justin Steer is CEO of both Commission Flow and Campaign Flow.
Both companies were founded with a vision to change the way Real Estate Agency Principals access the finance they need to grow, with an innovative, secure and flexible approach.
Justin has been an active participant in the real estate industry for nearly 25 years.  
In his spare time, Justin can usually be found swimming, cycling or running as he prepares for his next Ironman event.