With 2015 just beginning, I wanted to look back at the significant blunders some agents have made when it comes to implementing their social media strategy.
Now is the perfect opportunity for you to rebuild your social brand, and plan its execution and roll-out over the next year. With 90 per cent of people starting their home search process online, it's imperative you learn from others' mistakes.
Mistake 1: Focusing on the listing not the buyer
It's all good and well pumping up the features and benefits of a house, and yes some people will be interested in hearing about those, but what people will be even more interested in is if you can fix their problems. People move because they have a want or need that is not fulfilled in their current living arrangement. The cut-through of a call will be that much greater if you can pitch a house to someone and demonstrate how it is a solution to their current problem. Stop posting listing photos on social media and post real-life photos, such as a photo from a happy client who shares a snap from their first night in their new home. People buy into real-life examples, and they want to be able to relate to it. There's no use promoting million-dollar homes with no personal focus all the time, as it will alienate people.
Mistake 2: Adding an abundance of content but not backing it up
A classic mistake agents make in their social strategy is focusing on it heavily at a stage, before dropping it entirely when things get busy. This unreliability makes it very hard for people to know what and when to expect content from you, and chances are they will stop engaging and unsubscribe. The key is to add little bits of value consistently, write a blog article each week for buyers and what they can do to be proactive in the market. Also, write an article for vendors on the processes to go through when listing a home and finding a new home, and have an open line of communication to increase engagement.
Mistake 3: Increasing social media exposure without monitoring its success
A good way to monitor if your social media is effective is to work on a solitary week with the content and channels you plan to engage and see how it goes. Once you can measure how much engagement you had, you can then start to decide if it is working or not. If the engagement isn't where you'd like it to be, then think about varying your content and asking people what it is they want to hear. Your open-for-inspections are a great place to chat and openly say, "I'm looking at building out some local content and information for prospective home buyers, what information would you like?" If you ask enough, this can save you having to test the content to find out if they like it or not.
Mistake 4: Taking an ad-hoc approach to social media
Some agents make the mistake of not planning their posts. To make this simple, save templates into your social media scheduling tool so every week when you are posting that content you can just vary the source of information. This can mean you just need to fill a few holes. (Note: be wary when doing this as some content can come across as boring due to the continual execution being exactly the same. Try changing your templates every few weeks to ensure it stays fresh while also saving you time.)
Mistake 5: Not putting a compelling call-to-action at the bottom of posts
A lot of people write great content, but after it's read the person doesn't know what to do next. People need to be told to share it with the people who are relevant and encouraged to act, be it picking up the phone and asking for an appraisal or signing up to an email list. By spelling out what it is they need to do, you will create a workflow where they move from passive recipients to active engagers.

What to do next?
         Press the share buttons below and share this blog to your social networks
         Go and establish your social media profile accounts
         Commit to writing two updates a week about your market and tips that people can use when looking to buy or sell
         Start engaging in other peoples' posts where you think they are adding value to you
         Syndicate the content across multiple channels
         Write appropriate content for appropriate audiences. Facebook is a lot more visual than Twitter, so think about the content you'd post there over a platform like Twitter, which has a much higher turnover of content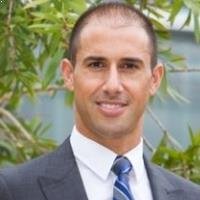 Rocky Bartolotto is the national sales director for homely.com.au. Rocky's extensive experience in introducing new product offerings to the market and client management abilities makes him one of the most knowledgeable property specialists in the country. In addition to his time working in the online space, Rocky is also one of Sydney's top auctioneers, with over 4,000 auctions performed through his business. He is the director and chief auctioneer at Property Auction Services.