The real estate industry has seen a healthy increase in new office numbers over 2014, with 2015 set to tell a similar story. Strong market conditions have established confidence in the entrepreneurial real estate agent to consider making the move to ownership - not to mention savvy existing business owner expansion, through rent roll acquisition and further market penetration.
Franchises have also been more proactive in structuring their value proposition to drive their growth. Some offer the location you want that others can't. Others have the systems, tools and training. It may be that you may know someone who owns an existing franchise, or sometimes it's as simple as buying an existing business and retaining the current brand.
There are lots of reasons you might initially be attracted to a brand, but with the lifecycle of a franchisee/franchisor relationship usually lasting five years plus, it's important you also engage with the personality of a franchise and its people, since it's a long ride home if 12 months in you're looking for the door.
So what are some of the key things to look at when determining a brand's personality?
A franchise's focus
While most brands will offer the key elements of a real estate franchise, in my experience a majority of franchisees only use a portion of the complete franchise offering for their business.
A brand usually has a focus area or a section of their business that they feel they excel at in comparison to other brands, and this usually is driven from the top down.
This franchise will place a large amount of resources, passion, development and time into driving this focus area mainly because their senior leadership team feel this is the key to building their brand and offering value to their franchisees.
These focus areas usually fall under:
• Training
• Brand awareness
• Marketing/campaigns
• Awards/recognition
• Technology
• Market share
It's a good idea to identify the key strength or focus area of the brand you're considering based on what you will feel is important for your new/existing business.
Perception is key!
Every brand seems to have a perceived market direction by the general public and real estate community alike. Some are perceived as 'everyday', prestige, or are more of a budget brand. Find one that suits your target market and direction.
The Three Vs
This stands for the franchise's values, vision and ventures. In other words, how do they define themselves? How do they see their future? And, finally, who are they looking to do business with? Make sure these align with you before moving forward.
Do they see the perfection in imperfection?
No one is perfect and neither is a franchise. All are going to have both their strengths and weaknesses, so don't shy away from asking your franchisor what they are developing over the coming year to improve their support, tools, resources and value offering to their franchisees.
How do they have fun?
I love asking this question to businesses as a lot of people seem a tad vague for the most part. Look into how a franchise rewards, recognises, incentivises, develops, supports and encourages its people.
There are plenty things to consider when looking into a particular franchise, but we don't always stop to think of whether or not they'll align with our personality and direction. Try asking about these areas of a brand's personality before embarking on what is hopefully a beautiful franchise friendship!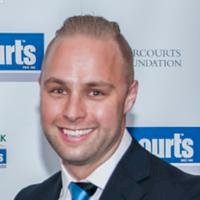 Beginning his career in the real estate industry at age 17, Chris quickly moved into sales and spent four years as an agent before progressing into corporate real estate within a franchise development capacity. Having then held a number of national franchise roles within the FMCG industry, Chris made the move back into his core passion of real estate in 2013, and now works as the franchise development manager for Harcourts Queensland.