The language of the corporate world is jargon. Terms like 'executional excellence', 'optimisation' and 'strategic direction' dehumanise how we communicate. This way of talking is killing us. It's killing engagement, productivity and loyalty.
While terms such as 'execution excellence' use fewer words than 'doing it right', we do not need to take leadership lessons from Twitter guidelines because every time we use corporate jargon we disconnect and isolate people.
The need to change
By 2020 Gen Y will be the most dominant generation in the workforce, and this cohort has a beautiful and healthy disrespect for authority. They are prepared to follow, but that will not be based on title or position – it will be based on our ability to connect with them, to engage them with purpose and to inspire them. This cannot be achieved with corporate jargon.
Besides Gen Y demanding leaders to be more authentic, information overload continues at an exponential rate. We have so much information available to us that people are not looking for more data, they are looking for leaders to create meaning for them and to make it relevant.
Storytelling as an option
Imagine if we could take the isolating and disengaging language of corporate jargon and replace it with a style that is inclusive and engaging. Real storytelling has emerged as an effective and authentic way to achieve this and many outstanding business leaders have embraced this concept.
Storytelling in action
Cindy Batchelor, an executive general manager at NAB, understands the power of storytelling and has spent years polishing this skill. Cindy shares the following story with her team to enforce the message of how important it is to be positive and to 'reframe' any situation:
Two years ago I lost my husband in a tragic paragliding accident. In our time of dealing with this loss, my youngest son Billy said to me that his greatest fear was, 'If it could happen to Dad, it could happen to you'. As a parent, this is a tough one to respond to – there are no guarantees in life.
Ten months later I was involved in a car accident while driving home from work. I had stopped at the shop on the way home to pick up some groceries and rang my eldest son Jackson when I was about five minutes away to get him to meet me outside to help with the groceries. Two minutes from home I was hit and instantaneously six airbags deployed and I pulled up just before I ran into a power pole.
The only thing that was going through my mind at the time was the memory of Billy saying, 'If it could happen to Dad, it could happen to you' and thinking that at that moment Jackson was standing outside at home waiting for me – and I was not going be turning up any time soon.
I rang Jackson and he immediately ran across the park in his school uniform and socks to find me. As you can imagine, I was pretty upset and I just said how scared I was of what could have happened. Jackson gave me a hug and calmly said to me, 'Mum, you can't think of it like that. You need to think of it like this – you drive a safe car and the airbags worked'. I just hugged him with pride about his perfect, powerful and positive response.
I am sharing this with you because every day when I am faced with the challenges of running this business, I often ask myself, 'How would Jackson reframe this?'
I spoke to Cindy about how and why she used such a personal story. She said: "Not all stories need to be this personal but this story has had the most incredible impact on my business and the way I connect with my people. There is a real strength in showing vulnerability as a leader."
Jargon to genuine
Using corporate jargon is easy, but being genuine is hard. Leaders like Cindy, who have the courage to show vulnerability and share personal stories, significantly increase their ability to engage, inspire and ignite. They know that a story will trump jargon every single time.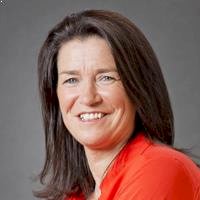 Gabrielle Dolan works across corporate Australia helping leaders humanise the way they lead by being more 'real'. Her latest book, Ignite: Real leadership, real talk, real results, is available online at all major retailers. Gabrielle is offering a discount of 20 per cent to Business Chicks readers for her Public Business Storytelling workshops in Sydney or Melbourne. Enter the following coupon code when purchasing tickets: BizChicksDiscount at www.gabrielledolan.com