Your belief in your own capability to run a business is the single biggest factor in determining your business ownership future.
When I first considered going out on my own, I had a discussion with one of the partners in the business I was working in. He was an accountant and I told him I didn't feel very confident about doing all the back-end compliance that was required. He told me I was right, and that I knew nothing about what was required.
But I did know one thing for sure: that I had this burning desire to do something for myself. I can remember thinking I'd hit an insurmountable wall and feeling completely hopeless, but the next thing he said changed everything forever. He told me that even though I was absolutely hopeless at admin and compliance, there were people in this world who knew what to do and that I could ask them.
That was the most liberating news I had ever heard. Of course there are, but why hadn't I thought of that? Nevertheless, his simple advice has served me so many times over the years, when I've had inadequate experience. There have been plenty of times when my knowledge base has fallen way too short!
Knowing how to list, sell and make money is the most important aspect in deciding to go it alone, and it's critical to success. Of course, you need to know your industry and your market inside out – that's a given as a real estate agent and for anyone embarking on setting up a business. The rest can be learned or delegated to others.
Another important factor in business success is confidence. Success in business is firmly founded on the confidence of the leader. If you lack confidence (at least on the outside) it will be very easy to lose belief in yourself, and ultimately your business will start to reflect your lack of belief in it.
I'm also a great believer in staying focused and not allowing yourself to fall into the trap of feeling overwhelmed. Yes, making the decision to set up in business can be terrifying if you consider every single aspect as a mountain that you need to conquer immediately. So consider it a small hill that can be walked up gradually and pace yourself, taking it one step at a time. And don't forget, you don't have to be in it alone!
But it's amazing what can happen when you actually decide to do something. Coming to that decision can be much harder than the challenges you'll face once you've taken your first step.
My initial first step was the hardest, but once I'd taken it, I was able to get straight into gear with listing and selling property and proving to myself that I could be successful.
Confidence comes to you and grows within you as you make your way down the road of business ownership, as you show and prove to yourself what you can do. Customers ultimately prefer to do business with professionals who appear competent and secure in their abilities.
It's normal to feel apprehension when you're about to step into the unfamiliar territory of business ownership, and that's what I call being human. It's that basic fear that's completely paralysing and is the root cause of people not finding the confidence to try new things and test what they are capable of doing. Confidence is a state of mind.
It's also perfectly natural to feel apprehension and fear when making big life-changing decisions. We've all experienced 'buyer's remorse' at some stage in our lives, but there is a solution to overcoming fear and trepidation.
Firstly, be honest about the cause of your fear. Personal beliefs are extremely powerful, because they form the basis of how we actually react in fearful circumstances. You should ask yourself the difficult questions about your uncertainty around setting up your own enterprise. Once you can identify those fears, then you can find a resolution. There is always a rational way to deal with apprehension. Practically every agent I have met, no matter how strong they are as an agent and as a person, feels trepidation when considering opening a business.
Anticipate that there will be hurdles. That's normal. Sometimes you might feel disheartened; we all have those days. What happened the last time you had a day like that? Nothing. It was just a bad day and you probably had a much better day soon after. Expect for those days to happen, take small steps towards your mission and then focus on the positives. Be afraid but do it anyway, because when managed properly fear can be the fuel that will propel you to where you want to go. If you had no qualms about putting yourself out there as a new business owner, then you wouldn't be human.
When I started One Agency, there were hundreds of phone calls and meetings over years resulting in 'thanks, but no thanks', until eventually I got my first 'yes'. Then another 'yes', just like when I started my first business, and this gave me the confidence to keep going, as I knew it would then simply be a matter of time. With every 'no thanks' I knew I would get closer to finding my next 'yes'. If only I had a crystal ball back then to know how One Agency would grow, as I still pinch myself when agents call, not just to enquire, but to request membership and to see if there is availability in their area.
Nobody will turn up and just give you success – because it's earned, with hard work and determination. However, you can do it – anyone can! Do you want it? Of course you do, and you can have it. All we really need is to believe in ourselves.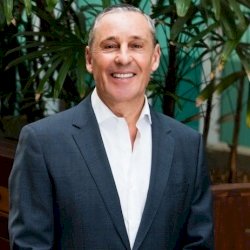 Paul is the founder and CEO of One Agency.
He offers real estate professionals an opportunity to reap the financial rewards of going it alone, with the security (and clout) of an established brand.