How do you get buyers to emotionally invest in a listing when the home is too dangerous to enter?
That's the challenge facing one London agent, who is handling the sale of a "severely fire-damaged" London home (see below) that has been priced at £500,000 ($1.01 million).
As the listing explains, the agent has not inspected the home, "but it is believed" to include three bedrooms, one bathroom, a front garden and a backyard.
"In view of the condition of the property, internal inspections may not be possible, but in any event, any viewings are entirely at your own risk," the listing adds.
A fire last year tore through the property and caused significant damage to the roof and interior, according to Metro.co.uk.
However, the agent, James McHugh of McHugh & Co, said it could still sell for up to £600,000.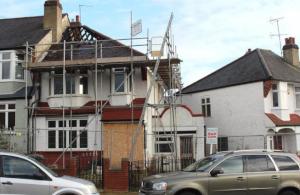 (Source: McHugh & Co)
Make sure you never miss an episode by subscribing to us now on iTunes
And dont't forget to leave REB a review!

Listen to other installment of the Real Estate Business Podcast