One of the country's leading property managers spent time behind bars on Monday – thankfully all for a good cause.
RE/MAX Success Toowoomba principal Katie Knight (pictured), a four-time winner of the Real Estate Institute of Queensland (REIQ) Residential Manager of the Year award and the recipient of the 2012 Real Estate Institute of Australia (REIA) equivalent, was locked up in a temporary jail alongside the town's mayor, Paul Antonio, to raise money for the Toowoomba Police Citizen's Youth Club's youth development programs.
In exchange for their release from the makeshift jail, set up at Toowoomba's Grand Central Shopping Centre, the prisoners had to donate $500 bail, with all proceeds supporting the charity.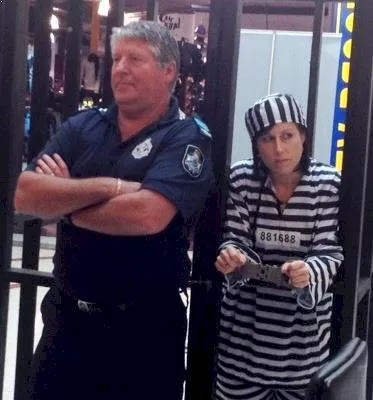 Residential Property Manager contacted Ms Knight upon her release and she said she was both relieved to be free and delighted to donate her time to the worthwhile charity.
"When I was initially taken to the cell," Ms Knight confessed to Residential Property Manager, "I was the only prisoner, which was nice, I had the whole space to myself. But then Mayor Antonio was cuffed and brought in alongside me and I realised how little 'personal space' there is on the inside. Being cell mates with a pollie wasn't too bad though – it meant those that were willing to donate when we shook our buckets were more likely to give to me... it's about the only way to raise the popularity of a real estate agent!"
Ms Knight said she was more than happy to do time for charity and was even willing to up the ante and double the bail she was willing to pay to become a free property manager once more.
"I was approached by one of the local sergeants, who is also a landlord with our office, and I was more than happy to donate my time and spend a few days shaking the money trees of family, friends, business associates and acquaintances to try to raise funds for a genuinely worthwhile cause," she said.
"To tell you the truth, I increased the terms of my bail! We were initially advised we had to raise $500 to 'make bail', but being a little competitive in nature, I decided to up the ante and double the bail. But when we reached that target, I upped it again to $1,500, then $2,000 – and yet again to $2,500. Right now, my online donations are just $70 shy of this total, and that's not taking into account the cash from my donation bucket that is yet to be tallied and added to my total. So, it's fair to say I've not only done my time but I've also well and truly paid my bail – five times over!"
Make sure you never miss an episode by subscribing to us now on iTunes
And dont't forget to leave REB a review!

Listen to other installment of the Real Estate Business Podcast