A Queensland property management business has confirmed it will continue to defy the Real Estate Institute of Queensland (REIQ) and irk its competitors with its unique advertising campaign.
Townsville's Coral Sea Property Management, which has been making headlines nationally for its saucy style of advertising, including unusual 'for rent' sign boards, has been embroiled in a war of words with REIQ about the campaign.
The company's principal, Shaun Podbury, told Residential Property Manager that he sent an open letter to the local branch of the REIQ outlining that he had no intention of taking down the signage after local press reported that REIQ Townsville zone chair Damien Keyes, who is also principal of Keyes & Co Property, said the signage was in bad taste and had no place in the public domain.
Some of the signage includes "No Twerking'', "Rent this and you get a free air guitar", "Chuck Norris would rent this apartment" and "Crazies welcome, imaginary friends extra $25".
However, the sign deemed the most controversial and offensive has been a large billboard featuring Monica Lewinsky with the tagline, "Last agent leave a bad taste in you mouth?"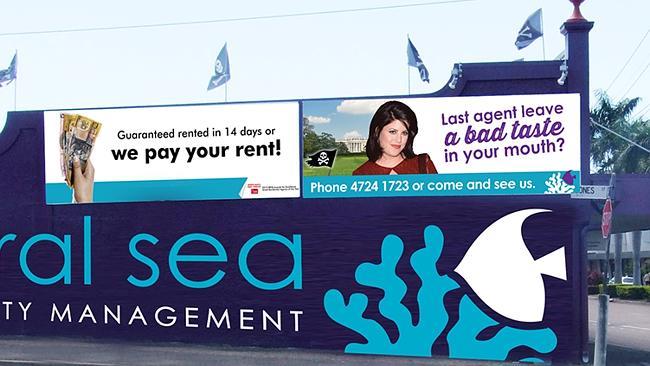 "What we're doing is driving a clear wedge between ourselves and traditional real estate agents who take themselves very seriously," Mr Podbury told Residential Property Manager, adding that the risqué advertising would continue with a new campaign that's in the pipeline and is likely to cause just as much controversy.
"Our strategy when we set out was to set us apart from the market. We believe we do provide a far superior service to our competitors, we take the products we offer seriously but try to have some fun with how we deliver them," added Mr Podbury.
Coral Sea, which claims to be the "pirates of the property industry", said when starting out one of the rules it set was a very distinct strategy with its branding.
Residential Property Manager obtained the open letter Mr Podbury forwarded to the REIQ, which was sent after the Townville Bulletin  reported the REIQ had threatened legal action to tear down Coral Sea's signage.
The letter doesn't hold back in its sentiment towards the REIQ, stating:
"As a small independent agent, it's disappointing to see the professional body (that I have supported for 20 years), which is supposed to be promoting the industry, flexing its significant muscle and using legal threats to stifle a little creative and independent expression of opinion.
"Perhaps this is really just a case of sour grapes from all the so-called 'professional' agents, and bullying tactics from their corporate representatives, and just maybe it is our world-first 'we pay your rent guarantee' that is actually angering the agents?"
Meanwhile, Coral Sea has drawn even more publicity with the announcment that their office is being unofficially run by the office cat 'Chairman Meow', who is now introducing the company's lisitings on realestate.com.au (see video).
"You'll also see that we now advertise all of our properties under Chairman Meow," said Mr Podbury.