Queensland rental markets are steadying as the spring selling season approaches, according to the Real Estate Institute of Queensland (REIQ).
The trend is revealed in the latest REIQ Residential Rental Survey, carried out at the end of June across REIQ-accredited agencies.
REIQ acting chief executive Antonia Mercorella said the stabilisation of the rental market coincided with a surge in sales across many parts of the state.
"Historically in Queensland we tend to see one market thriving more than the other, and at the moment it's the sales market that has the upper hand," she said.
"Vacancy rates still remain tight in many parts of the state, but according to REIQ members the rental market is starting to stabilise, with vacancies creeping up in some areas.
"This is the result of strengthening first home buyer activity, which is reducing tenant demand, along with increased investor activity, which is increasing the rental supply in some areas," she added.
According to the survey, the vacancy rate for the Brisbane Statistical Division eased to 2.3 per cent at the end of June, compared to 1.9 per cent at the end of March.
The latest figures from the Residential Tenancies Authority (RTA) also show a decline in the total number of bonds lodged during the June quarter across three-bedroom houses, two-bedroom units and three-bedroom townhouses, compared to the previous quarter.
Ms Mercorella said rents were softening in some of Queensland's regional centres, particularly those in the mining areas where fly-in, fly-out employees had become an increasing trend.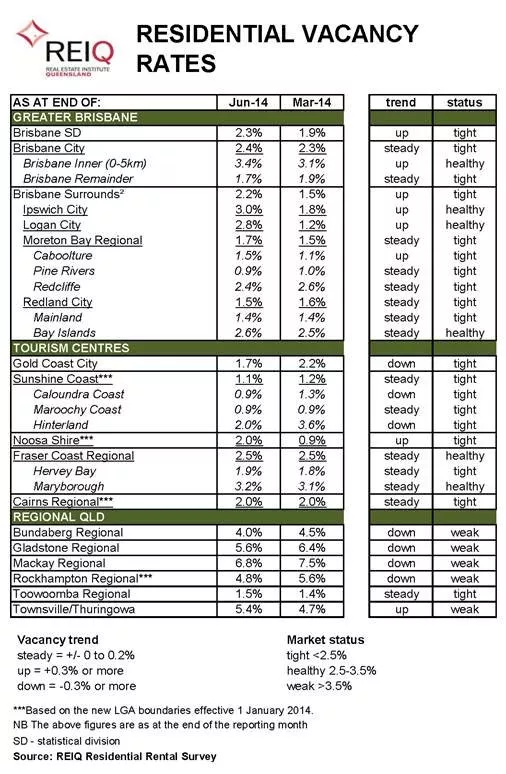 Make sure you never miss an episode by subscribing to us now on iTunes
And dont't forget to leave REB a review!

Listen to other installment of the Real Estate Business Podcast