A further decrease in the commission rate average for property managers is predicted as further new entrants into the space try to win business, according to Macquarie.
The latest Residential Real Estate Benchmarking Report from Macquarie Business Banking said while the number of properties managed by PMs has increased, commission rates have remained static or dropped.
The biannual report stated the national average for properties managed per agency jumped from 375 in 2009 to 508 in 2014. However, commission rates have seen a decrease – especially noticeable in NSW and Victoria.
In 2009 commission rates for NSW were at an average of 6.3 per cent and have slid to 6.01 per cent in 2014 (see below).
In Victoria, 6.3 per cent was also the average for 2009, but there has been a drop to 5.96 per cent in 2014.
Speaking to Residential Property Manager, Macquarie Business Banking head of residential real estate Daniel Evans said commission rates have been declining in NSW and Victoria, driven by the increased competition between agencies to win properties under management.
"The growing importance of property management to agencies is leading to greater demand for these properties, causing downward pressure on management commission rates as agencies compete for business," he said.
"We forecast that management commission rates will continue to decline in New South Wales and Victoria as new entrants try to win business by discounting their rates.
"However, established agencies are starting to put processes in place to limit discounting as they focus on the profitability of each property under management, rather than the headline number of properties.
"The other states have seen stable commissions and we believe this will continue in the medium term," he added.
Metro Property Management director Leah Calnan, also speaking to Residential Property Manager, said she did not realise the average in Victoria had decreased to that level.
"[However] what people need to move away from is the percentage figure because it doesn't always come back to the percentage fee that the owner is paying; it is more about the dollars that it generates for the business," she said.
"I think now with properties being worth more there is more opportunity to adjust a management fee – just because you are only charging a five per cent management fee, it doesn't make it wrong.
"You have to know what your dollar figure is that you need to earn per property per management within your business," she added.
Ms Calnan said PMs are looking at managing a property at $450 a week at five per cent. The dollars that generates per month might work within their own business and own department's budget.
"But if you are managing properties at $250, then the management fee needs to be adjusted in accordance with that because they are not going to generate the same amount of dollars," she said.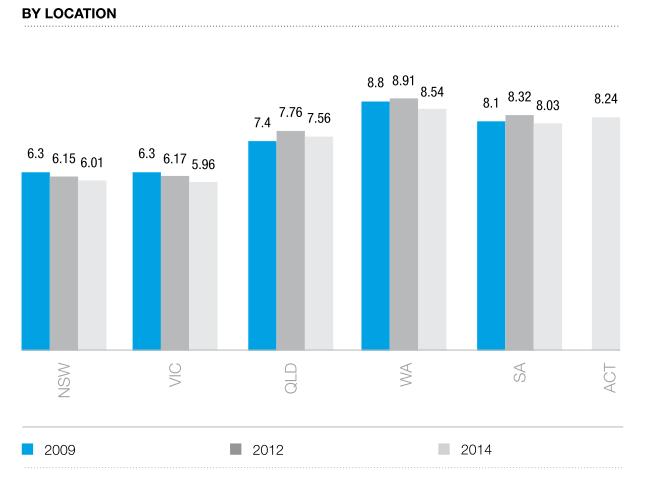 Source: Residential Real Estate Benchmarking Report
Make sure you never miss an episode by subscribing to us now on iTunes
And dont't forget to leave REB a review!

Listen to other installment of the Real Estate Business Podcast