A new report has uncovered the 20 building and population hotspots from across the nation, with all but two states and territories represented on the list.
The latest HIA/ACI Population and Residential Building Hotspots report has Western Australia once again dominating the table, with Victoria and New South Wales also strongly represented.
HIA economist Diwa Hopkins said the new home building recovery gathered "full steam" last year and noted that the results were much stronger than the previous year.
Six of the 20 hotspots are in Western Australia, followed by Victoria with five and New South Wales with four.
"For a second consecutive year, it was the Australian Capital Territory that was home to Australia's number one building and population hotspot – the territory's South West area," Ms Hopkins said. "Second place was the Northern Territory's Palmerston South area. The ACT was also home to Australia's number three hotspot, the suburb of Crace."
Nationally, the HIA defined a hotspot as a local area where population growth exceeded the national rate and where the value of residential building work approved was in excess of $100 million.
This year's report also included a Building Momentum shortlist, which identified a number of regions "where further upward momentum in building activity is set to occur in 2015", Ms Hopkins said.
"Strong potential is evident for local areas in NSW in particular, while WA and Victoria also feature quite broadly. In contrast, the ACT does not feature on this shortlist. Signalling that the experience of recent years – where a number of ACT areas have been strongly represented among the nation's top 20 hotspots – is unlikely to be replicated next year."
Ms Hopkins forecast that the year ahead would be another strong one for building activity, but said there were some changes afoot.
"We are in for another strong year of new home building activity, although the relatively even growth balance across detached and multi-unit housing last year will be replaced by this further lift being more concentrated in the medium/high density market," she said.
A full list of the National Top 20 Building and Population Hotspots and the Building Momentum Shortlist can be seen below.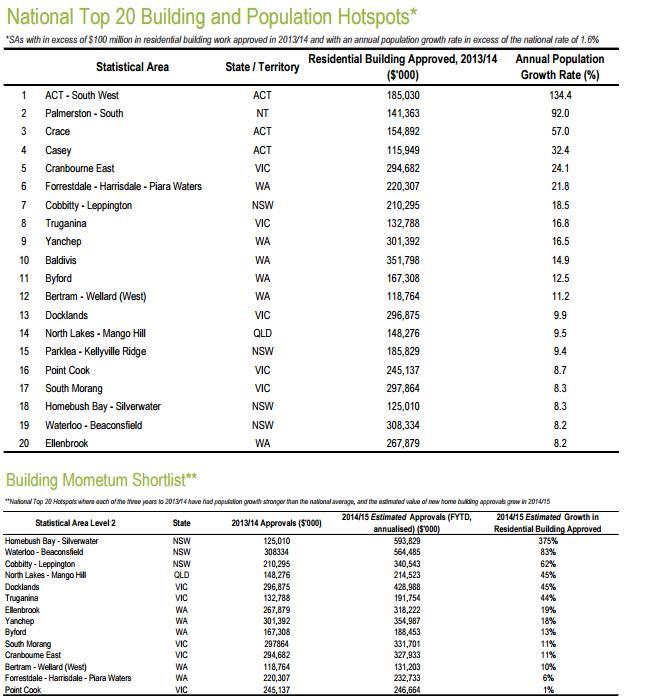 Source: HIA
Make sure you never miss an episode by subscribing to us now on iTunes
And dont't forget to leave REB a review!

Listen to other installment of the Real Estate Business Podcast