Two experts have shed light on the increasing threat of cybercrime within Australia's real estate industry, and what agents can do to mitigate the issue.
Speaking to REB, InfoTrack CEO John Ahern and global CTO Sebastian Mill said the threat of cybercrime is fast becoming an everyday reality for businesses across Australia, with real estate agents in particular a hot target for cyber attacks.
"Through our early origins as a title search provider, InfoTrack is a known and trusted brand to key parties involved in a property transaction which enables us to educate the property industry about the real risks of high-value property transactions being intercepted by cyber criminals," Mr Mill explained.
"Common types of cybercrime include hacking, online scams and fraud, identity theft, attacks on computer systems and illegal or prohibited online content which could result in theft of property funds or your data. 
"Australia's strong economy, along with high rates of internet and new technology adoption, has made our country, and in particular small to medium businesses, a lucrative target for attacks. In fact, 45 per cent of companies were attacked by online criminals between 2016 and 2018, up from 33 per cent in 2015."
To help agents and their clients from losing funds during a property exchange, InfoTrack has rolled out a new website dubbed Securexchange. The product aims to protect property transactions from hackers by allowing property buyers, sellers, real estate agents and lawyers to communicate and confirm bank account details in the one, secure and safe environment. 
"Each property transaction has a unique transaction space, only accessible to verified parties who have their own login and must use multifactor authentication to access the site," Mr Ahern said.
"It is free for our clients to create a Securexchange account, and when they do, we verify their trust account details before allowing them to create a transaction space and invite other parties."
The new product presents a distinct point of difference to other provider offerings out there, Mr Ahern added.
"InfoTrack is a leading innovator in legal technology. Our product, Securexchange, is a first-of-its-kind innovation in Australia; there are no alternative websites open to the whole industry to use. The only other options are to confirm account details via email or phone which leaves transactions vulnerable to increasingly sophisticated hackers," Mr Ahern said.
"Securexchange has been designed to eliminate altogether the need to share account details via unsecured email. Users can create an account, join a secure workspace and then share account details via encrypted links. Full account details are then only visible to authorised parties."
The new product comes at an ideal time, with hackers getting smarter and more efficient in their targeting, according to Mr Mill.

"When it comes to the real estate industry, the property market is especially alluring to hackers as it involves constant high-value money transfers between several parties. Hackers aren't just after bank details anymore; they're focused on infiltrating large-value transactions," he said.
"Hackers become experts at breaking into email accounts and following transactions as they progress, so they can strike while the iron is hot. They know when your clients are ready to transfer the deposit and they send a perfectly timed email from the hacked account with false bank details to redirect funds into their own accounts. 
"Based on our research and discussions with clients, we realised that there was no safe alternative to email in the market. The industry needed a secure way to provide and confirm bank account details that could not be hacked by cyber criminals. As the leading tech provider to the legal industry, we already had several highly secure websites catering to property transactions and felt a duty to develop a solution to protect our clients from deposit theft."
Going forward, Mr Ahern said there are strategies agents can implement to both grow their business and bolster their capabilities, especially when it comes to cyber security measures.
"We recommend that you educate yourself and your staff about the risks of cyber security and what you can do to protect your firm. Your firm is only as strong as the person with the least training," he said.
"The biggest threat to cyber security is people: you, your employees, your partners and your clients. It may only take one absentminded click or keying in the wrong email address and you could be facing a serious data breach. That's why education and awareness are key. All businesses should have cyber security training and procedures in place to ensure vigilance and best practice. 
"To educate your employees and clients, you can: tell your clients what kind of communications they can expect from you and educate them about potential phishing scams so that they are aware; and include a disclaimer in your emails to further emphasise the importance of verifying account details.
"Lean on your technology provider to give your business the best chance at staying safe against hacking attempts. Fake emails will only become more sophisticated, and purpose-built technology can help keep you and your clients safe."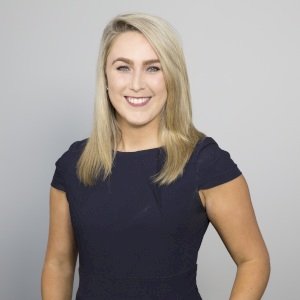 Emma Ryan is the deputy head of editorial at Momentum Media.

Emma has worked for Momentum Media since 2015, and has since been responsible for breaking some of the biggest stories in corporate Australia, including across the legal, mortgages, real estate and wealth industries. In addition, Emma has launched several additional sub-brands and events, driven by a passion to deliver quality and timely content to audiences through multiple platforms.
Email Emma on: [email protected]com.au