Small communities across Australia have given capital cities a run for their money, as property growth has been active in the regions.
Most investors do not look far outside of large cities to get the best return. However, Propertyology has looked at the numbers and has pinpointed dozens of towns that have produced a median house price growth just as robust as those in capital cities over the last two decades.
Towns with fewer than 50,000 people have been able to produce higher returns than many capital cities over the last 20 years, Propertyology's head of research, Simon Pressley, said.
"A regional town with a population of only 23,000 has Australia's third highest median house price. Other towns with populations as small as 7,000 people have also proven to be far less volatile than Australia's biggest cities over the past two decades," he said.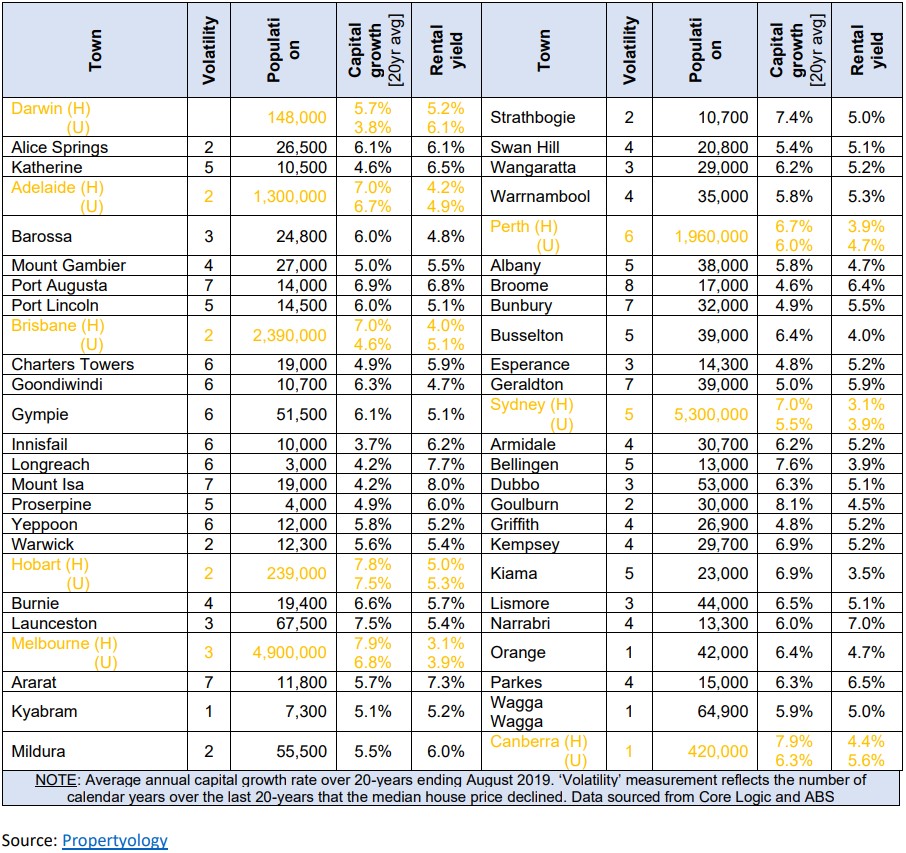 "These facts are just a few examples to highlight the gross inaccuracies with people's perceptions about Australian locations with smallish population sizes — the lifestyle, the real estate opportunities, the risks."
The top performers included Goulburn, NSW, with an average annual median house price growth of 8.1 per cent; followed by Launceston, Tasmania, with a yearly increase of 7.5 per cent; and Strathbogie, Victoria, at 7.4 per cent.
The regional towns had strong price growth over this period because of many economic and market fundamentals, which included housing affordability, Mr Pressley said.
"For example, just two hours north of Melbourne is the municipality of Strathbogie, with a population of 10,700 people," he said.
"In addition to having a really cool name, Strathbogie's 7.4 per cent average annual capital growth rate and its 5 per cent rental yield are both superior to Adelaide, Brisbane, Perth and Sydney.
"Likewise, the absolutely beautiful regional city of Armidale, in the New South Wales region of New England, officially boasts Australia's highest ratio of residents employed within the education sector. The median house price in the picturesque university city is still a very affordable $340,000, yet it has tripled over the past 20 years. In addition to that impressive capital growth, the 5.2 per cent median rental yield is outstanding."
The results of this study revealed regional locations are not riskier than capital cities, Mr Pressley said.
The towns with diverse economies have proven track records of property price growth, mostly superior to capital city results, he said.
"While big-city investors struggle with eye-watering mortgages and massive holes in their annual cash flow, myriad smaller locations provide investors with cash in their pockets each year along with the capital growth," Mr Pressley said.