An experienced agent has offered pivotal insight into her experience of being a woman in real estate, noting that sexism, sexual harassment and bullying are negatively shaping the culture of the industry.
A Queensland real estate agent, who spoke to REB under the alias of "Kate Howard", has worked in real estate for nearly two decades.
Ms Howard said she got into real estate because she was interested in property from an early age. During the 18 years she has been in the industry, selling homes morphed into her passion to a point where it is now her life.
Despite this, however, Ms Howard told REB that the culture of the real estate industry has become toxic in recent years, claiming she has experienced numerous occasions where she's been the victim of sexism, sexual harassment and bullying.
Incidents at the workplace
It all started when Ms Howard worked for an independent agency in a regional Queensland town. Not long after she started, one of her co-workers put money on the table and made assumptions as to why the boss truly hired her.
"A co-worker bet $20,000 to the boss that he hired me because he wanted to sleep with me," Ms Howard said. 
"Obviously, we didn't sleep together, but that person who placed the bet came to me and said he would go halves with me."
The implication was that he would split the money with Ms Howard if she slept with him — a proposal Ms Howard said she was disgusted by.
"I work in property, that's all I care about — I care about my clients and doing a good job."
Ms Howard said shortly after this first incident, she attended an annual company training event held at a coastal resort, which ended with staff enjoying a few social drinks.
During the event, Ms Howard recounted that she was playing pool when one of her male colleagues walked over and started to make remarks about her breasts, suggesting that it would be hard for her to do simple tasks, such as playing pool. Ms Howard said she was reduced to tears and the next day received a text message from a different colleague. It read: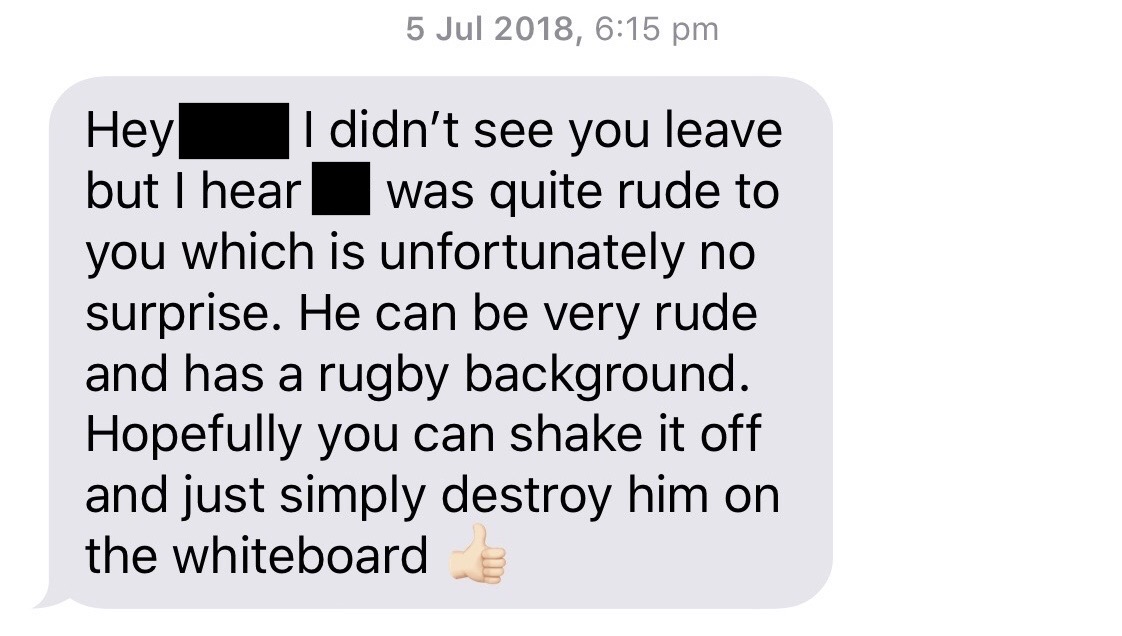 "Hey, [Kate], I didn't see you leave, but I hear [male colleague's name] was quite rude to you which is unfortunately no surprise. He can be very rude and has a rugby background. Hopefully you can shake it off and just simply destroy him on the whiteboard."
Ms Howard felt he was making excuses for the male colleague's bad behaviour.
"There was another woman who worked there at that time. She was maybe two or three years older than me. She actually came to me and asked if he had apologised," Ms Howard told REB, before noting that she never got that apology. Incidentally, that same female co-worker had expressed to Ms Howard that she too had been at the brunt of sexist remarks from the same agent when she started at the agency.
"They are a bit of a boys club, and she has learnt not to say anything or do much with the boys club," Ms Howard explained.
Ms Howard said from the beginning, it appeared as though her boss had a "vendetta" against her, although she never worked with this boss until the agency's two offices merged. However, during her interview, he claimed Ms Howard was an "unpolished diamond", she said.
Ms Howard claimed this boss kept the pressure on her, and during a time when the market slowed, and properties were not selling in their area, she worked around the clock to try and get a sale.
Not long after she learnt she was pregnant with twins, Ms Howard said she was conducting a building and trust inspection at a staged property. There were three men with her, and as they were standing around talking, she started to bleed.
The guys wanted to help her, but Ms Howard was embarrassed about the situation, so she asked if they could lock up and she would go back later to clean up the mess.
When she got to the hospital, Ms Howard said she had lost so much blood that she was rushed into emergency surgery to get a blood transfusion.
She, unfortunately, haemorrhaged and lost her twins.
After a night in the hospital, Ms Howard was back in the office less than two days later.
However, Ms Howard remembers looking worn out, with bags under her eyes. Her boss sent her home and told her to make sure she was at her open houses that weekend.
"On Monday, he called me into his office, and that's when he asked me if I knew about the pregnancy. I said, 'Yes, it was a shock'.
"He was sorry to hear that but said if I don't sell the property by the end of the month, I'm gone."
Every week, Ms Howard said her boss reminded her if she did not sell that property, she was gone, regardless of how slow the market was at the time. 
"[I was] constantly being told every week for months that you are gone if you don't sell anything," she said, explaining how the berating severely knocked her confidence.
When her boss told her she was fired, he said, "Real estate is really hard, maybe you should get into fashion and sell clothes", Ms Howard recounted.
"I cried for a week solid."
At the time she was fired, Ms Howard notes she was about two, three weeks behind with her debit credit and she had a property she was about to settle the next week, while others at the agency, all males, were six months behind.
Reported data
Ms Howard's claims, while shocking, fall in line with research undertaken last year by the Australian Human Rights Commission, which showed the number of women being sexual harassed at work has doubled in the past six years. Most victims are aged between 18 and 29, the research found.
Breaking down the industries, the Australian Human Rights Commission reported a whopping 81 per cent of employees in the media industry had experienced sexual harassment at work in the past five years, followed by the arts and recreation industry at 49 per cent, utilities at 47 per cent and retail at 42 per cent.
Meanwhile, 39 per cent of employees in the financial services industry had experienced sexual harassment at work, followed by 17 per cent of those in the construction industry and 13 per cent of those in real estate.
The aforementioned is, arguably, reflective of cases which have been reported in some way, shape or form, with the true figures likely much higher. Last year, both the Victorian Legal Services Board and the Victorian Legal Services Commissioner went on record to say a number of sexual harassment matters are under-reported in Australia.
"It's getting worse," Ms Howard told REB on the culture of sexism, sexual harassment and bullying in real estate. 
Silver lining
Although Ms Howard had a terrible experience at a previous agency, she has since found a new team who helped build back her confidence.
"It's not every man, because some are really respectful," she told REB. "But it needs to stop, and that's why I wanted to share my story."
Going forward, Ms Howard said she hopes more people start to speak up about their experiences.
"When you are around good groups like the guys at my office, it gives you the power to talk about the bad ones."
Because of the nature of this topic, REB has decided not to publish any comments on this article. If you wish to share your views or stories, please email This email address is being protected from spambots. You need JavaScript enabled to view it..