With one month almost already down, several Harcourts professionals have outlined how they expect the remainder of the spring selling season to play out in their respective states.
Despite the difficulties being spurred off the back of the COVID-19 pandemic, Harcourts' agents are expecting a "sensational" spring season, with market sentiment strong across multiple regions.
Here's what each of the professionals had to say about their station.
QUEENSLAND: Brendan Whipps – group director, Harcourts Solutions
"Obviously, we were impacted the most through the March to April quarter. Since May, however, we have been trending back to our normal numbers. In fact, we had approx 700 groups through our properties every weekend last month, while the most we had through the initial COVID period was around 40," Mr Whipps said.
"There are certainly buyers and a heap of demand but little stock on the market at the moment. We're finding that prices are not just holding, they're actually growing. If you take a look at one of our recent sales, 43 Whitecliff St, Albion, the owners bought it around 12 months ago for $1.18 million and, with little to no work done, sold it for $1.275 million. I think that bodes well for the market moving forward.
"I think spring is going to go really well. We completed over 850 appraisals during the winter period which tells me that there are a lot of people currently in the 'consideration phase'. Stock is low at the moment, but if it starts to flow as confidence picks up, we are going to see big inspections numbers, plenty of buyer competition and multiple offers at properties that come onto the market."
VICTORIA: Tony Morrison – CEO, Harcourts Victoria/Tasmania
"I am amazed at how resilient the market is in Victoria, more than almost any state in the country, nothing seems to stop them buying or selling property. People just love real estate in Victoria. When we first went into lockdown in April, our sales probably went down about 30 per cent, but then in May we were almost back to normal. Overall, if you look at the same six-month period this year, it's not that different than for the same time last year," Mr Morrison said.
"We've even got offices in Melbourne, for example, that have had five or six sales over that five-, six-week shutdown period. If you go outside greater Melbourne to Geelong or Ballarat, the numbers are quite incredible. In Ballarat, we had 32 sales completed last month which is almost a record and they were under stage 3 restrictions. Pakenham, which is in stage 4, completed 13–14 sales and they can't even hold inspections — it's been pretty amazing.
"Once lockdown finishes, if you've got a house to sell, I can tell you they are selling quickly, getting multiple offers and great prices. All things considered, the market is good. So far, there is every indication that we are going to experience a boom after restrictions are eased and our extremely resilient agents are very optimistic about the spring this year."
SOUTH AUSTRALIA: Brett Pilgrim – business owner, Harcourts Pilgrim
"It's been an interesting one for us as the very first COVID case in SA decided to come to one of our auctions, so we were shut down and into quarantine before any restrictions were even put in place. This was good for us in a way as we put a plan in place very early on, we started working with [fewer] people at the office, sanitiser stations, embraced online meetings, opens and auctions. When SA had restrictions put in place, we were already operating within all the guidelines," Mr Pilgrim said.
"We have certainly seen less desire to go to market and across the board less listings; this has really given the buyers less choice and therefore maintained pricing pretty well across the board. We are finding that what we are bringing to market is going really well at the moment and numbers at open for inspections have actually increased.
"Initially, there was concern we could have a large influx of property that could affect prices, and although I think that comes at some stage, to a degree I still think people are holding back which to us feels like the spring market will hold quite well. Even though there seems to be not too much online, I think a lot of agents like us have a large number of off-market opportunities. So, if you're looking to buy, talk to local experts on what they might currently have for sale."
NEW SOUTH WALES: Nicole Jackson – business owner, Harcourts Jackson Power Property
"When COVID first hit, there was a certain level of uncertainty from sellers, but properties did continue to sell, albeit not as quick as they would normally. The last five, six weeks, however, the market here (NSW Central Coast) is probably as hot as it was in the beginning of 2017," Ms Jackson said.
"We've found that a huge amount of lifestylers want to get to the Central Coast now they are not having to commute to work and have the freedom to work from home. Our area has become very attractive to those who want to move out of the city (Sydney). Add to that low interest rates and we're seeing properties here maintaining if not increasing in value; there has been a real surge in buyers.
"I think we started spring early! Traditionally, spring is when people think about putting their house on the market, so there will be more that comes on — we have another three properties coming on this week ourselves. If you're a buyer, you need to be at the very first open for inspection as properties are just not lasting. There are also probably a record number of off-market properties being sold at the moment, so I think you need to be very clear on what you are after, speak to agents and be in constant contact with them. Make sure you have your finances organised, too; home owners are not going to wait for finance clauses to be realised, there is so much demand that they really don't have to."
With regard to property management, Ms Jackson said when the team advertises a property, they are inundated with inquiries and applications.
"There are many Sydneysiders looking to escape the city and move to the Central Coast for the lifestyle, and now with the added bonus of not having to commute every day and being able to work from home, the Central Coast is even more attractive!" she said.
"We have converted a number of holiday letting properties over to permanent rentals which has been beneficial and provided landlords with a stable stream of income during the uncertainty of COVID-19." 
WESTERN AUSTRALIA: Paul Blakeley – CEO, Harcourts WA
"It's actually gone a bit nuts, to be honest! We've had offices that have had record months, and as a state, we've had the best number of written sales in our 13–14-year history, it has been quite amazing. Construction incentives have seen a big rise in demand for land and land sales which have contributed to us exceeding our targets. We've come off five, six years of the worst market in WA for over 30 years, so we really didn't have anywhere else to drop," Mr Blakeley said.
"At the start of the year, values started to improve, so before COVID hit we were gearing up for a big year. Uncertainty set in when COVID first hit, but we then bounced out of the blocks really fast due to low interest rates, government incentives and high buyer demand. Vacancy rates are also way down, so the market is really ticking along a lot better than anyone anticipated.
"Spring is traditionally our biggest time of the year in terms of listings, but we have seen a little tightening of stock coming onto the market recently. Our guys are pretty heavily focused on putting deals together off-market at moment as sellers are still a little cautious around the COVID pandemic — it's all new territory for everyone, so only time will tell. In terms of buying, if you are in the market now, I would suggest getting pre-approval from your bank as soon as possible. Do your research, get finance approval and if you see a property you like, don't wait, get your offer in and make it a competitive one."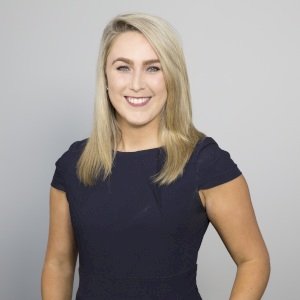 Emma Ryan is the deputy head of editorial at Momentum Media.

Emma has worked for Momentum Media since 2015, and has since been responsible for breaking some of the biggest stories in corporate Australia, including across the legal, mortgages, real estate and wealth industries. In addition, Emma has launched several additional sub-brands and events, driven by a passion to deliver quality and timely content to audiences through multiple platforms.
Email Emma on: [email protected]com.au