A change in priorities spurred by the COVID-19 pandemic has seen two of South Australia's LJ Hooker offices make the switch to another group.
LJ Hooker Salisbury, located in Adelaide's north, and LJ Hooker Fleurieu, located in the city's south, have undergone a rebrand, joining Professionals.
The decision sees the former begin trading under its new namesake, Professionals Sailsbury from 1 July, and the latter as Professionals Aldinga Seaford on 12 July.
When speaking about their decision to move to Professionals, Daren Morris, principal of the new Professionals Salisbury office, and John McGarry, principal of Professionals Aldinga Seaford, pointed to the pandemic as having a hand in changing their business' strategy over the long term.

"COVID has caused us to look at a lot of things differently, including our business, and that has driven my decision to join Professionals," Mr McGarry said.
"We've had a really long-term connection with the Hooker brand, but it just came time for us to look at what we were doing and where we were heading going forward." 
Mr Morris echoed a similar sentiment, noting that the timing felt right to make the move.
"We have always had a great deal of market activity in our area in both sales and rentals, no matter what the conditions," he said.
"As one of the top offices in Adelaide for LJ Hooker, we are definitely going out on a high and with a clear vision, and that's probably the best time to look at any change."
Greater independence
For both Mr McGarry and Mr Morris, it was Professionals' "not-for-profit network structure" that was a key driver in choosing to go to the group, rather than start-up independent agencies.
"We've been reasonably successful for a long period of time, but under the franchise model, you tend to pay for success. We were drawn to the Professionals because of their not-for-profit network structure," Mr McGarry said.
Mr Morris added: "The biggest issue for me was the franchise model and how relevant that was to our business today. LJ Hooker has been great in getting my business to where it is today, but the franchise model inherently penalises offices that do well.
"As an independent, you will need at least five years to create your own brand and build trust, whereas Professionals is a widely recognised brand.
"The move will definitely help our bottom line, but at the same time, it allows me to be more locally focused with our marketing and that will help our vendors get better prices for their homes. This also allows me to support my team and give more back to the community, which is something we're passionate about."
Looking ahead
Going forward, the pair said they are keen to undertake a range of community projects now that they have greater bandwidth to do it.
"I have only good things to say about LJ Hooker from my experience, but from a purely business point of view, as a Professionals office, I can reinvest money from my business back into my local market, into the community through sponsorships and the like," Mr McGarry said.
"That's hugely important for us to grow the business further." 
Pictured: David Crombie, CEO, Professionals
ABOUT THE AUTHOR
---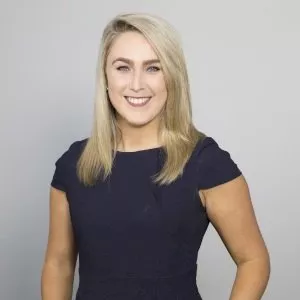 Emma Ryan is the deputy head of editorial at Momentum Media.

Emma has worked for Momentum Media since 2015, and has since been responsible for breaking some of the biggest stories in corporate Australia, including across the legal, mortgages, real estate and wealth industries. In addition, Emma has launched several additional sub-brands and events, driven by a passion to deliver quality and timely content to audiences through multiple platforms.
Email Emma on: [email protected]com.au